Steelers News: Roethlisberger, Jones, Burfict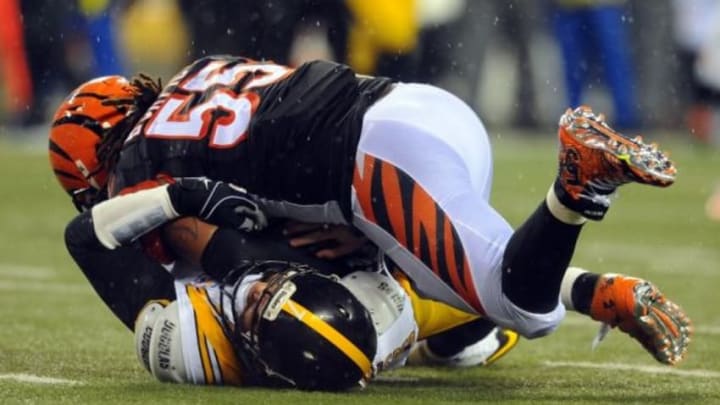 Jan 9, 2016; Cincinnati, OH, USA; Cincinnati Bengals outside linebacker Vontaze Burfict (55) sacks Pittsburgh Steelers quarterback Ben Roethlisberger (7) during the third quarter in the AFC Wild Card playoff football game at Paul Brown Stadium. Mandatory Credit: Christopher Hanewinckel-USA TODAY Sports /
The Steelers can't celebrate the win over Cincinnati for very long because the Broncos are waiting in the divisional round.
SC_Header_Large 5 /
While the Steelers take the practice field we'll be busy looking for mentions of your Black & Gold so we've got you covered. Here's your Steelers Morning Huddle for Tuesday, Jan. 12th.
Sources say
More from Steelers News
The Steelers have powered through some injuries this season but none could be as damaging as if both
and
were out for Sunday's playoff game against the Denver Broncos.
ESPN's Bob Hotlzman reports that his "sources" say that Roethlisberger is likely to play on Sunday after suffering a sprained AC joint in his right shoulder but Brown is "not looking good" as he sustained a concussion in Saturday night's 18-16 win over the Bengals.
No need to freak out yet. The Steelers will update the injury statuses during Tomlin's press conference on Tuesday and the likelihood that anyone in the NFL's concussion protocol is cleared this early is pretty slim anyway.
This guy's an idiot
Things were looking bleak for the Steelers on Saturday night until Mensa candidates Vontaze Burfict and Adam Jones gave the Steelers 30 yards-worth of penalties to put them into range for Chris Boswell to kick the game-winning 35-yard field goal.
Following the game, Jones posted a profanity-laced rant about "Jerry" Porter coming out onto the field but after having some time to cool off Jones wasn't done being an idiot. Monday morning he joined the Dan Patrick Show to allege that Antonio Brown (see previous story about still being in the NFL's concussion protocol) was faking it.
It gets better. I'll let Pacman tell it.
""I know he was faking. I think he need a Grammy Award for that one." – Pacman Jones"
Let's nobody tell him. This is too funny. It does make me wonder how someone that stupid does things like tie his shoes or makes his way to the stadium.
Suspended
Roger Goodell decided to go ahead and drop the Ginger Hammer on Bengals linebacker Vontaze Burfict before he could knock anyone else out or drive his knee into anyone else's shoulder. The NFL released on Monday night that Burfict will be suspended without pay for the first three games of the 2016 regular season.
Next: Steelers grades in Bengals win
The official NFL release explains Burfict was suspended for repeated violations of safety-related playing rules. The NFL also stated that they are reviewing the conduct of other players and coaches from the Steelers-Bengals game for potential discipline.