Steelers News: Coates, Jones, Fines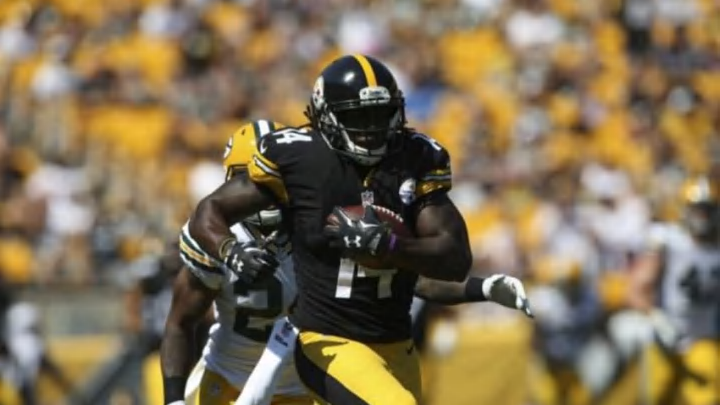 Aug 23, 2015; Pittsburgh, PA, USA; Pittsburgh Steelers wide receiver Sammie Coates (14) runs the ball past Green Bay Packers cornerback Quinten Rollins (24) during the second half of the game at Heinz Field. The Steelers won the game, 24-19. Mandatory Credit: Jason Bridge-USA TODAY Sports /
The Steelers will head west today to take on the Denver Broncos in the divisional round of the AFC playoffs.
SC_Header_Large 5 /
While the team boards the plane we'll be busy looking for mentions of your Black & Gold so we've got you covered. Here's your Steelers Morning Huddle for Saturday, Jan. 16th.
Next Man Up
More from Steelers News
We all got the news on Friday that Steelers receiver
will not play in Sunday's game against the Broncos. He hasn't yet passed through the concussion protocol and the medical staff and coaches had to make the call. Concussions aren't injuries to be messed with.
With that being said the Steelers have embodied the "next man up" philosophy so much this season with all of the injuries they've had to deal with so far and for this game the next man up is rookie receiver Sammie Coates.
Coates gives us his feelings about being prepared to play in this game and how he has approached this season as a whole not knowing what his role would be from one week to the next. Coates likely won't start in Brown's spot but he will be counted on to contribute to the offense that will surely be missing their No. 1 playmaker.
The apology
With Antonio Brown officially ruled out with his concussion Bengals cornerback and village idiot Adam Jones stood by his word to apologize for calling Brown a faker.

So there's that.
You get a fine! You get a fine! Everyone gets a fine!
The NFL was busy this week printing out the fine notices stemming from the Steelers 18-16 win over the Bengals in last week's wild-card playoff game. ESPN confirms a total of four players and two coaches were fined $83,665 for their actions in the game.
Steelers assistant coaches Joey Porter and Mike Munchak were each fined $10,000 for their actions. Pacman Jones was fined $28,940 for contact with an official, the flag that led to the Steelers game-winning field goal. Bengals defensive linemen Wallace Gilberry and Domata Peko were each fined $8,681.
Next: Steelers at Broncos: What to watch
Steelers guard Ramon Foster was fined $17,363 for unnecessary roughness. This was his second fine of the season, which was why the amount was higher. Bengals linebacker Vontaze Burfict wasn't fined any additional money but he'll lose out on $502,941 of his salary if his three-game suspension is upheld.