Steelers News: Green, Honor, Brown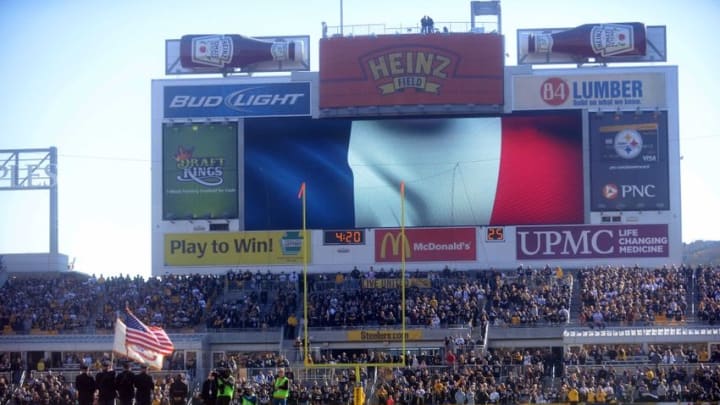 Nov 15, 2015; Pittsburgh, PA, USA; A moment of silence for the victims of a terror attack in France before the Pittsburgh Steelers and Cleveland Browns game at Heinz Field. Mandatory Credit: Jason Bridge-USA TODAY Sports /
The Steelers are officially on summer vacation as the offseason workout program wrapped up and they won't come back together until reporting to training camp later this month.
SC_Header_Large 5 /
Steelers season never really ends for Steeler nation so while the Steelers players get their minds and bodies right to embark on the 2016 regular season we'll be busy looking for mentions of your Black & Gold so we've got you covered. Here's your Steelers Morning Huddle for Wednesday, July 6th.
On the right end of things now
The Steelers added an important offensive piece this offseason with the signing of tight end Ladarius Green. The fifth-year man was signed as an unrestricted free agent from San Diego and proved instantly to be a necessary signing with the retirement of Heath Miller.
Green gives Teresa Varley insight so that fans can get to know him a little better before the season starts.
More from Steelers News
He's gotten an impression of Steelers fans so far from his playing days in San Diego but he's anxious to be on the positive side of the experience now.
""I haven't experienced them yet on the positive side. But I know they are great fans. I know they love their team and they root really hard for their team. I would really love that feeling to have fans give the other team a headache like they did for us last year when I played in San Diego. This is going to be a fun experience. It was real crazy when we played them in San Diego. We knew it was going to happen coming into it that they were going to be loud and a lot of them, but it was still crazy to experience it." – Ladarius Green"
Chair of Honor
The Steelers, Penguins and Pirates aren't known to have attendance problems in their stadiums. Even so, as much as tickets to those games are in demand the teams plan to leave at least one empty seat from now on, intentionally.
Aaron Aupperlee of the Trib describes the program which has been adopted by other teams across the country as a way to honor soldiers who are missing in action or prisoners of war. The chair will be distinguished with the special logo and Steelers PR rep Burt Lauten said that the plans for the chairs in Heinz Field are being finalized.
I doubt it would actually count against sell-out numbers but in this case who cares if it would?
The body
If you're in the mood to see Steelers wide receiver Antonio Brown nekkid then be sure to check out ESPN Magazine's "Body" issue which is ESPN's answer to SI's Swimsuit edition perhaps.
Next: Are former Steelers RBs cursed?
Either way if you're too thirsty to wait for your copy in the mail or to buy it in the store you can find it online right here. You won't be able to see any of Brown's actual naughty bits and you also get to see Vince Wilfork nekkid so there's that.