Steelers Pre-Camp Projected Depth Chart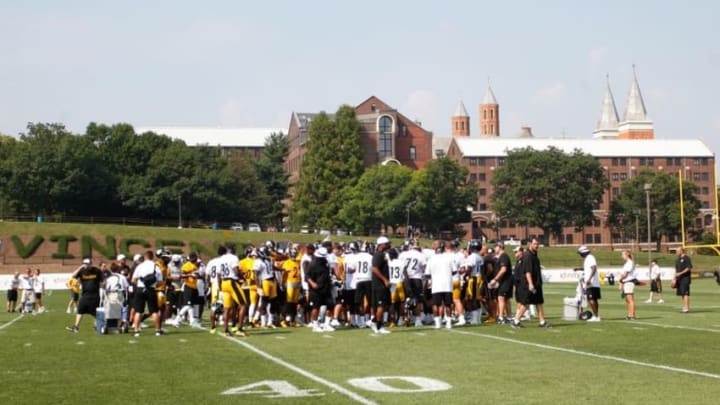 Jul 27, 2015; Latrobe, PA, USA; The Pittsburgh Steelers huddle on the field during training camp at Saint Vincent College. Mandatory Credit: Charles LeClaire-USA TODAY Sports /
Jun 14, 2016; Pittsburgh, PA, USA; Pittsburgh Steelers quarterback Ben Roethlisberger (7) instructs during mini-camp drills at the UPMC Rooney Sports Complex. Mandatory Credit: Charles LeClaire-USA TODAY Sports /
Quarterbacks:
Starter: Ben Roethlisberger
Backup: Bruce Gradkowski
There's no competition here and no question that Ben Roethlisberger is the leader of this team. He begins his 13th season with the Steelers in what he describes as the best shape of his life with a new baby, the best receiver in the league, the best running back (whenever he's not suspended) and all the hype that comes with them.
The Steelers offense is poised to do big things this season provided Roethlisberger and Brown stay healthy. With a suspension for Le'Veon Bell looming over the team like a dark cloud it may look dreary considering the heights this offense was expected to reach but there's no reason the 30-points a game goal isn't still attainable.
The only problem here lies in the backup position and it's not really a problem as long as Gradkowski is healthy, which he appears to be. Landry Jones will most likely make the 53-man roster but I don't see any scenario outside of injury situations where he'd be even activated for a game.
The Steelers look like a team on a path to a championship this season with our without their suspended players. Fingers crossed that there are no more setbacks I think the sky is the limit for this team.
They'll open training camp in Saint Vincent College in Latrobe for the 51st year and they're one of the only teams left in the league who still pack up and go away for training camp.
Next: Steelers Le'Veon Bell facing suspension
There will be a lot of expectations on these Steelers and with these players healthy and on the field I think they can meet and exceed those expectations.