Steelers Pre-Camp Projected Depth Chart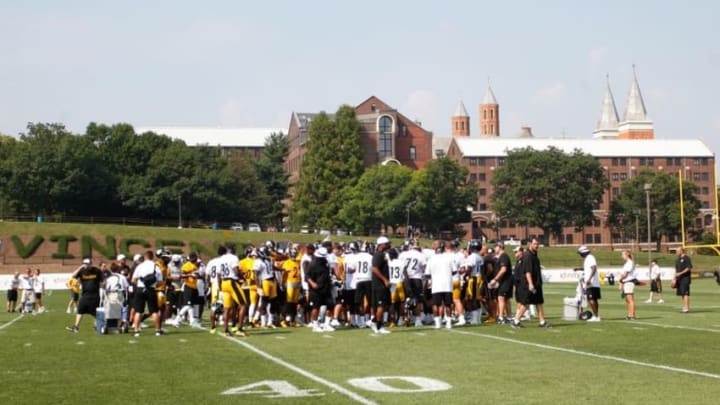 Jul 27, 2015; Latrobe, PA, USA; The Pittsburgh Steelers huddle on the field during training camp at Saint Vincent College. Mandatory Credit: Charles LeClaire-USA TODAY Sports /
Running backs:
Starters: Le'Veon Bell (suspension pending), DeAngelo Williams
Backups: Fitzgerald Toussaint, Cameron Stingily
Proof that there is no such thing as an NFL offseason, Steeler Nation was rocked on Friday when it was leaked that Le'Veon Bell was in the process of appealing a four-game suspension by the NFL for violating the league's substance abuse policy.
The infraction allegedly is a result of a missed drug test as opposed to a positive test but in terms of length of suspension the NFL treats a missed test the same as a positive test. Bell was suspended for the first three games of last season stemming from a 2014 arrest for DUI and marijuana possession. His suspension was reduced to two games.
There was no immediate word from either the NFL or the Steelers with regards to the suspension which likely means the appeal hasn't been actually conducted yet. There's no word to whether the Steelers will look to sign a veteran back to help DeAngelo Williams or whether they'll move forward with the backs already on the roster.
Williams proved himself to be more than capable of handling the role of Steelers running back during Bell's suspension last season as well as his injury. Just seems like a few days ago we were giddy with the idea of the Steelers toying with the idea of featuring both Williams and Bell on the field together in certain situations.
The suspension of Bell is a blow to an otherwise highly dangerous offense but it will not be a devastating blow. What is most upsetting is the selfishness that Bell has exposed about himself in just his first few seasons in the league.
Whether you agree with the NFL's stance on marijuana or not is beside the point. The rules are what they are and Bell went out of his way to deny rumors that popped up in June about the possibility of a failed drug test. Turns out now that he blatantly lied.
The Steelers offense and team will survive this, but Bell's future with the team sure is in question.
Next: Fullback