A Steelers Fan's Guide to Training Camp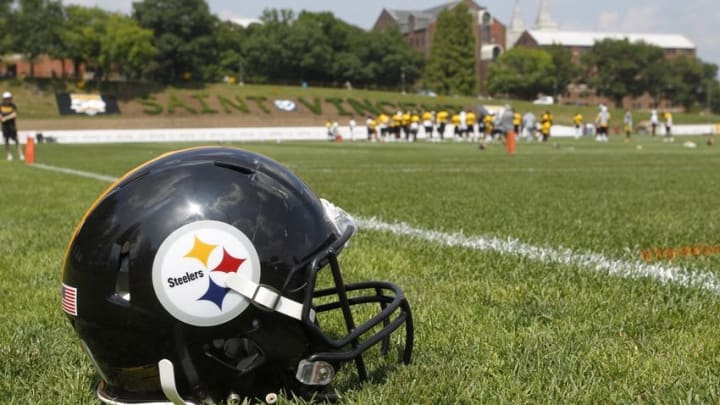 Jul 27, 2015; Latrobe, PA, USA; General view as Pittsburgh Steelers helmet sits on the field during training camp at Saint Vincent College. Mandatory Credit: Charles LeClaire-USA TODAY Sports /
The Steelers will soon be checking into the dorms of Saint Vincent College in Latrobe for the 51st consecutive year and we'll give you the info you'll need to check it all out.
It seems that slowly but surely the rest of the NFL world is finally figuring out what Steelers fans have known for the past fifty years; that Steelers training camp in Latrobe is a one-of-a-kind experience. That must be why there are so many fan-interactive things added this year as well as national coverage.
The Steelers report to the dorms on Thursday, July 28th with the first practice open to the public the very next day, Friday, July 29th. Practices held at Saint Vincent are completely free and fun for everyone. You can do anything from line up for player autographs to just camp out on the hill and enjoy the scenery.
Opening weekend of Steelers training camp 2016 features a special event hosted by NFL Network called NFL Training Camp Fan Zone and features a Hall of Fame on wheels as the Super Bowl LI trophy on display for photographs.
Steelers fans who take part in the experience can enjoy:
Catching a touchdown in the Fan Zone Catch foam pit – with a slo-mo video capture of their catch they can share on social media
Taking pictures with the Vince Lombardi Trophy
Taking pictures with Rocky Bleier or Mel Blount at the official NFL Network on-air desk
Comparing their hand size with the hand sizes of the pros
Taking pictures in the NFL-themed photo booth
Watching their favorite Steelers players and coaches enjoy all the fun
That's all just the first weekend of camp!
Members of Steelers Nation Unite can check into training camp through the app and can be selected to take part in a special viewing of the Steelers' 2015 highlight film.
The annual Friday Night Lights practice will take place on Aug. 5th at Latrobe Memorial stadium and there will be a "Steelers Fest" from 12-6 pm that day prior to an ESPN SportsCenter On the Road broadcast from 7-9 pm.
The practice will conclude with a fireworks display sponsored by Pepsi.
The Steelers will also join with the Detroit Lions for joint practices on Tuesday, Aug. 9th and Wednesday, Aug. 10th.
If you've never been to Steelers training camp it's more than worth the trip out there. If you're going for autographs remember to arrive early and be patient, you may have to wait in line for a while but your patience will be rewarded.
If you're just looking to enjoy watching practice you can sit in the bleachers of Chuck Noll Stadium or along the hills around any of the three fields the team practices on. You can watch your favorite players in action and watch James Harrison run up and down the sidelines because Tomlin won't let him practice and hurt the newbies.
Seriously, though if you haven't done it yet make this the year you check it out. If you can't make it for the first weekend or the Friday Night Lights practice you can enjoy some great times on weekday practices or weekends pretty much throughout August.
Check with the Steelers website for the official schedule of dates and times of practices and to make sure you know what you can and can't bring with you to the field.
Next: Steelers Pre-Camp Depth Chart
Football is right around the corner Steeler Nation! Here we go Steelers! Here we go!