Steelers News: Ross Ventrone, Training Camp, Michael Phelps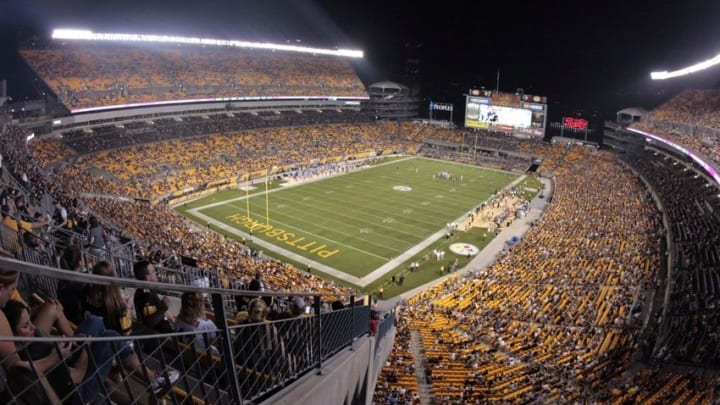 Aug 12, 2016; Pittsburgh, PA, USA; General view as the Pittsburgh Steelers host the Detroit Lions during the third quarter at Heinz Field. The Detroit Lions won 30-17. Mandatory Credit: Charles LeClaire-USA TODAY Sports /
The Steelers have their first preseason game under their belts and have some things to work on going forward.
SC_Header_Large 5 /
While the Steelers get back to camp and gets ready to work on the rest of the preseason we'll be busy looking for mentions of your Black & Gold so we've got you covered. Here's your Steelers Morning Huddle for Monday, Aug. 15th.
Transactions
The Steelers will be moving pieces around a lot over the next couple of weeks before the first roster cut-down day on Aug. 30th. On Sunday the team announced the moves made included placing fan favorite safety Ross Ventrone on the Reserve/Injured List.
More from Steelers News
The team also waived/injured two players including offensive tackle Brian Mihalik and defensive tackle Roy Philon. To fill those roster spots the team signed Offensive Tackle Wade Hansen, Defensive Tackle Khaynin Mosley-Smith and Cornerback Julian Washington.
Back to camp, back indoors
The Steelers returned to Saint Vincent College for their first practice following the 30-17 preseason loss to the Detroit Lions on Friday night. Mother nature had a different plan for the team. Due to thunderstorms in the area the team took the practice indoors because a day off is not an option.
One thing the Steelers organization does for fans that I doubt other teams would even consider is they make sure that if something changes the normal flow of the practice the fans are fully considered and are made accommodations for within reason so that the practice can go on as normal in spite of the conditions.
Michael Phelps cares not for Steeler Nation
He may be the most decorated Olympian in the history of the world and his dominance in the pool is surely something we won't see again any time soon. At this moment, he's America's greatest guy.
Here's where the downside comes in. Phelps is from Baltimore Maryland and for some reason is proud to support a football team that plays in purple and stakes the majority of their offensive hopes on pass interference calls. ESPN also notes that he doesn't even care to see Steelers paraphernalia around him.
Next: Steelers injuries may be hurting their Super Bowl chances
He can always outswim the competition but still believes the Ravens can out-top the Steelers. Bless his heart.