Steelers: Defensive Line Depth One of Few Preseason Bright Spots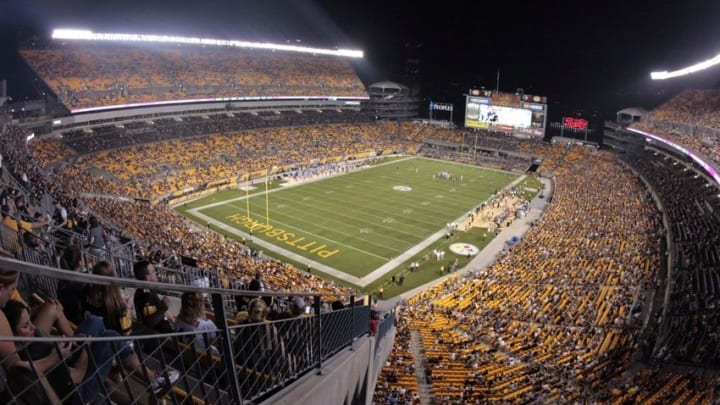 Aug 12, 2016; Pittsburgh, PA, USA; General view as the Pittsburgh Steelers host the Detroit Lions during the third quarter at Heinz Field. The Detroit Lions won 30-17. Mandatory Credit: Charles LeClaire-USA TODAY Sports /
The Steelers preseason has been ugly, per usual. Between Ricardo Mathews and Javon Hargrave, one of the few bright spots is the clearly improved defensive line depth.
Steelers fans can't get too greedy about the preseason. The regular season is where Pittsburgh fans get their highs, but does the preseason have to be so full of lows? It's an endurance test that if you survive you get to watch the gorgeous Pittsburgh offense do what they do.
The preseason rarely has breakout stars, whether that year's rookies or backups or players attempting to walk on. If you squint however, you just might see some bright spots among the struggling unfamiliar names losing game after game. One of those bright spots is the defensive line.
It's true that Cam Heyward has long been one of the top players on the defense. It's also true that Stephon Tuitt has joined Heyward to make one of the top starting defensive end groups in the NFL. But, it's also true that they never come off the field.
McClendon was a serviceable defensive tackle, but the Steelers more often than not were in packages that did not require McClendon but instead moved an outside linebacker or two to the line and moved Heyward and Tuitt inside. Cam Thomas performance was mixed at best and McCullers was, and largely remains, a project.
So it's no wonder Tuitt and Heyward barely come off the field. As good as they are, players need spelled. Fatigue can turn the best player into mediocre for a series or two. Furthermore, never coming off the field adds up in a way that could lead to injury.
Tuitt by the way is only entering his third season and he keeps getting better. Heyward said of Tuitt, from Dan Filloy of the Indiana Gazette, "He's just a lot more comfortable now. He's using better hands this year, he understands the defense a lot better and understands what these offenses are going to do against us now."
More from Steelers News
It's nice to see Heyward/Tuitt get even better but it's been quite a relief to watch Ricardo Mathews and Justin Hargrave show they can improve the depth of the defensive line. And for the Steelers, any defensive line depth is improved defensive line depth.
Ricardo Mathews has shown up over the past couple games. He only has one tackle, but he's made a bigger impact than that indicates. He got himself a tipped pass against the Lions. And that Doran Grant interception was largely caused by pressure from Mathews.
He's not going to challenge Tuitt or Heyward for a starting spot but that's not what he's here for. It's clear that he can hold the line against the run. He's not the most accomplished pass rusher but the guy's got hustle and that was the biggest knock against Thomas, the player he's replacing.
Now Hargrave, here's another player with just one tackle but given his position, the Steelers scheme, and the limited playing time anyone gets during preseason this isn't a clear indication of the skill he's displayed so far. He's raw, but that's to be expected. What's clear is he can take on blocks and stand still. He was drafted for his ability to fire off the ball and be disruptive in the backfield and he has done just that.
Hargrave recently said, "I remember watching Casey Hampton. They called him 'The Big Snack.' He was about 330-340, but he had one of the quickest first steps for a defensive lineman. He took on triple teams and double teams, and made plays all the time, so that's a legend right there. I'm just coming out here to work, get better and be the best I can be as a player."
Speaking of big, Dan McCullers continues to improve and he's slimmed down a bit as well. He's made 3 tackles so far. He's not quite McLendon yet but McLendon was about 27 before he became a regular starter and McCullers turned 24 less than 2 weeks ago. And L.T. Walton is injured at the moment but against the Lions he looked strong, literally.
Next: Steelers get blanked by Eagles in preseason loss
So if you want to feel good about something from preseason Steelers fans then feel good about the defensive line. They are showing clear signs of improvement and depth.