Steelers News: Ben Roethlisberger, Martavis Bryant, Ramon Foster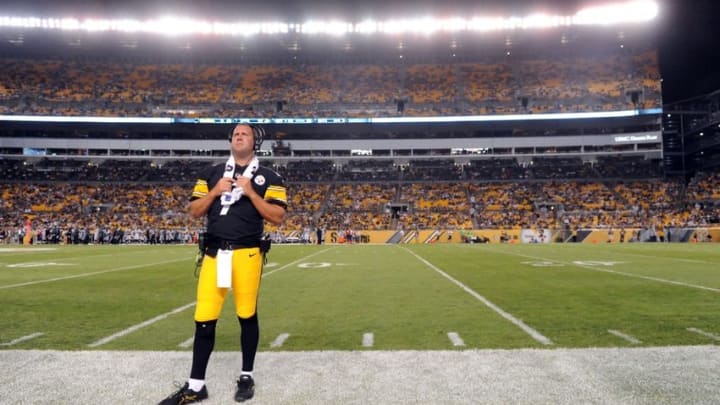 Aug 18, 2016; Pittsburgh, PA, USA; Pittsburgh Steelers quarterback Ben Roethlisberger (7) on the sidelines against the Philadelphia Eagles during the second half of their game at Heinz Field. The Eagles won the game, 17-0. Mandatory Credit: Jason Bridge-USA TODAY Sports /
The Steelers are halfway through the preseason so that means we're that much closer to the real action.
SC_Header_Large 5 /
While the Steelers get back to work on the rest of the preseason we'll be busy looking for mentions of your Black & Gold so we've got you covered. Here's your Steelers Morning Huddle for Tuesday, Aug. 23rd.
Don't listen to him
Steelers quarterback Ben Roethlisberger spoke to Teresa Varley prior to Monday's practice about how he'd like to get out on the field a little bit in the preseason and wouldn't mind even if he got hit. Clearly he was drinking early in the morning and no one should take him seriously.
""I feel like I could go into the first regular season game and do it, but I'd like to be out there just because it's a different speed. You want to get out there. I know my line doesn't want it, but I wouldn't even mind getting hit once. Maybe after the ball is gone just a little tap from a defensive guy." – Ben Roethlisberger"
More from Steelers News
Anyone who listens to Mike Tomlin's press conferences knows just how much he loves being asked about what any of his players have said in interviews so part of me can't wait until he's asked about this just to see his reaction.
The other part of me wants to just tell Tomlin that Ben said, "I feel like I could go into the first regular season game and do it" and just stopped talking.
A for A-hole
Stephen A. Smith is a clown/trash hybrid who ESPN employs to entertain people in the middle of the day. No one takes anything he says seriously, because he sounds like the worst combination of fans who call sports talk shows to make ridiculous statements and qualify them by saying, "I've been a fan for x-number of years."
Even Smith himself has to know by now that he's more of a joke and a caricature of bad sports shock jock shows than a legit news source. Still, some athletes seem to take it personal when Smith directs his lunacy in their direction. Look at the interaction between him and Martavis Bryant on Twitter.
Save your money
Steelers guard and NFLPA rep Ramon Foster is encouraging his teammates to start saving their money to prepare for a potential lockout in 2020 when the current CBA expires. ESPN's Jeremy Fowler has Foster's comments about how the players need to be prepared for anything.
""It's coming. They've hired certain people on their legal team, the NFL has, and we have to be the type of players and union that's not borrowing money from banks and stuff like that to survive a lockout, a strike. That can't happen this time around. We have to be smarter this time around because there are a lot of things we're going to be fighting for and a lot of things they are going to want and we're going to want, too." – Ramon Foster"
The drug testing and discipline policy is going to be at the forefront as well. It's not just a problem because the Steelers have to deal with the suspensions of Le'Veon Bell and Martavis Bryant but the rest of the league should take notice that the policy for the NFL is unlike that of the other major sports.
Next: Steelers Preseasons are no fun to watch
It was collectively bargained that positive drug test results, missed tests, combine test results, all of those kinds of things are confidential and not released. Clearly neither side is adhering to the rules very well.