Steelers News: David DeCastro, Antonio Brown, Ben Roethlisberger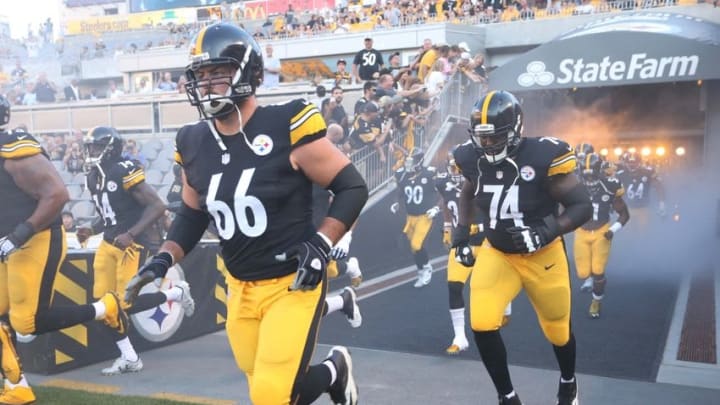 Aug 18, 2016; Pittsburgh, PA, USA; Pittsburgh Steelers guard David DeCastro (66) and guard Chris Hubbard (74) take the field to play the Philadelphia Eagles at Heinz Field. The Eagles won 17-0. Mandatory Credit: Charles LeClaire-USA TODAY Sports /
Steelers season is finally here and we have a date in Washington on Monday night to officially kick things off.
SC_Header_Large 5 /
While the team game plans for Washington and practices all week we'll be busy looking for mentions of your Black & Gold so we've got you covered. Here's your Steelers Morning Huddle for Saturday, Sept. 10th.
David DeCashtro
The deal we've been waiting to hear about finally got done on Thursday when the Steelers signed guard David DeCastro to a six-year, $58 million contract. His fellow linemen were pleased for him and even started referring to him as "David DeCashtro" for finally cashing in.
https://twitter.com/RamonFoster/status/774010888869318656
https://twitter.com/RamonFoster/status/774009723750350848
He told Teresa Varley how thankful he was to have his contract settled and his future cemented in Pittsburgh.
""I am thankful the Rooney family believes in me and now I have to hold up my end of the bargain. I don't know other places, but you hear about other places and this is the best place to be. All of the history and tradition, you want to uphold it as much as you can." – David DeCastro"
Ad man
Chances are if you see a commercial for something it will feature Steelers receiver Antonio Brown in it somehow. The man is absolutely all over the place and you can see he's learned how to cash in even without getting a new contract yet.
You'll be seeing a lot of Antonio Brown this year, one way or another. Let's hope we see a lot of him in the end zone and then him in a parade downtown in February.
Dogs for touchdowns
Ben Roethlisberger is a dog person. His foundation gives grants annually to provide K-9 dogs, training and equipment to police squads across the country. This year, as ESPN's Jeremy Fowler explains, Roethlisberger is going a bit beyond in his typical donations and pledging $1,000 per touchdown.
That's $1,000 towards the Ben Roethlisberger Foundation for every touchdown he scores this season. The last time he played a full season in 2014 he tied a career high with 32 touchdowns. That's a lot of puppies.