Steelers: A look at the defense after Week 1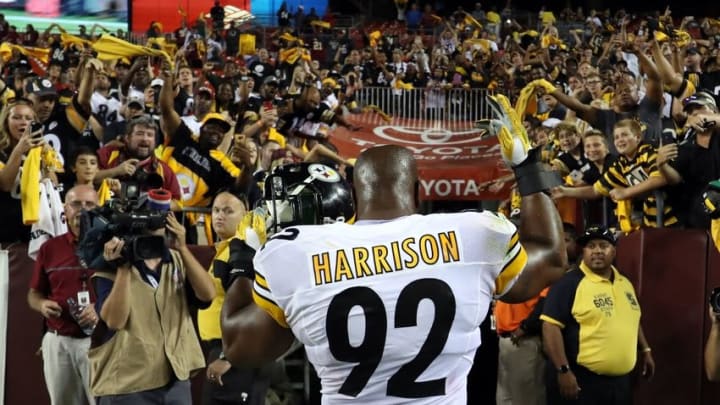 Sep 12, 2016; Landover, MD, USA; Pittsburgh Steelers linebacker James Harrison (92) celebrates while leaving the field after the Steelers /
The Steelers defense picked up where they left off last year, making plays when it matters the most.
I don't know about you, but I'm still giddy about Monday night's win. As some of you know, I'm a defensive guy. So, I'm also giddy about discussing our Steelers defense. Let's get into it.
The Steelers have a reputation to not play well in season openers, home or away. So, I wasn't too surprised when, on Washington's opening drive, they missed some tackles. I just hoped they didn't allow Redskins TE Jordan Reed to run all over the field on them. Like Rob Gronkowski did in Week 1 last season. But the Steelers held Reed in check. Holding him to 7 receptions for 64 yards and zero TDs. I'll gladly take that the rest of the way for any TE this defense faces.
I don't have the official numbers, but the Steelers only blitzed Kirk Cousins about four or five times. Which is probably the least amount we'll see from the Steelers this season. A LOT of their play was dropping back into zone. Which seemed to pay off when Ryan Shazier picked off Cousins and ran it back 51 yards (the yardage gained would be called back from a 'block in the back' penalty by Mike Mitchell). Even though the Steelers were leading by 11 when the play happened, it was still needed. One play later, on 2nd and 10, Ben threw a deep pass to Sammie Coates. That play put them in the red zone, and led to the second touchdown catch for Antonio Brown. Our defense picked up where they left off last year, making plays when it matters the most.
All of us, in Steelers Nation, are expecting our pass defense to be better this year. The theme of the Steelers defense last year was that of a "bend but don't break" backdrop. Many times last season the Steelers defense would allow first down after first down, drive after drive. But they would somehow make a play that would prevent the opposing offense from scoring. I mean, I obviously want our pass defense to get better. But until then, could we really complain about it if they're preventing the other team from scoring? For me, I'll take our defense giving up yards if they make a play in the red zone.
Overall, I think our defense played pretty well. It's Week 1, so I don't want to be overly critical. Besides beating the Bengals this Sunday, my only hope is having Shazier active. Shazier was pulled from the game on Monday in the 4th quarter because of his knee. After the game, Shazier assured everyone that he's fine, but he also did the same thing after an arm injury he sustained in the Week 2 win over the 49ers. That's what gets me worried a bit. I love Shazier, he's one of my favorites. I want to see him play all 16 games, I want to see him be a major headache to opposing offenses week in and week out.
Let's hope we see #50 out there on Sunday, and let's we hope we're celebrating a Steelers win on Sunday afternoon.
Here we go!