Steelers News: James Harrison, Le'Veon Bell, Antonio Brown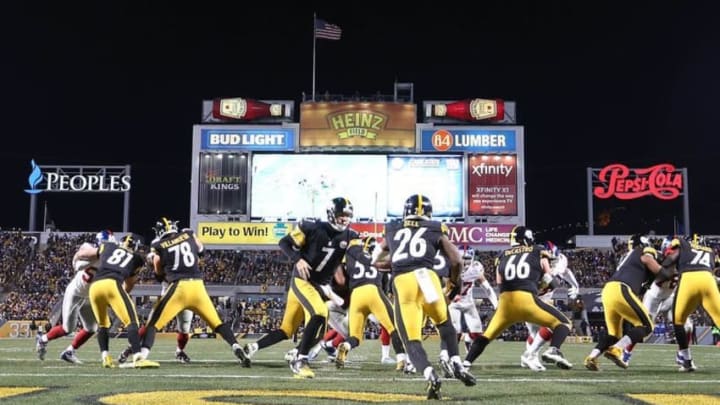 The Steelers are coming together at exactly the right time after a big win over the Giants at home.
SC_Header_Large 5 /
While the team prepares for the final quarter of the regular season we'll be busy looking for mentions of your Black & Gold so we've got you covered. Here's your Steelers Morning Huddle for Friday, Dec. 9th.
Is he still out there?
James Harrison has pretty much successfully defeated Father Time, who has been previously undefeated and has taken down the likes of Peyton Manning and Brett Favre and will hopefully soon come to claim Tom Brady.
Father Time currently, however, is hiding from the eyesight of 38-year-old linebacker James Harrison. He's clearly the best pass rusher on the team and he's almost old enough to be some of his teammates' dad. Even Bills coach Rex Ryan can't help but take notice when Teresa Varley talked to him this week.
""Unfortunately I have a lot of nightmarish memories about Pittsburgh, but I have some good ones too. I love the competition. Mike Tomlin is one of the guys I respect as a much as any coach in the league. He does a great job. It's great to see James Harrison still playing. I think the world of him. He whipped a lot of players, but he whipped Father Time as well. He is still playing great. I have some fond memories and a lot of bad ones too." – Rex Ryan"
He's about to have some more bad memories.
Meet my goons
Le'Veon Bell has good protection. He's got the same protection as Ben Roethlisberger and that means he's got the likes of Ramon Foster, David DeCastro, Maurkice Pouncey, Marcus Gilbert and Alejandro Villanueva not only blocking for him but looking out for him as well.
He told ESPN's Jeremy Fowler that he knows his guys are down to ride whenever. I'm down to ride as well but I'm sure no one's calling on me for blocking or anything like that. I can craft quite the tweet though, if necessary.
Get out of my dreams
If Antonio Brown wants to be called Ronald, you call him Ronald. Even Ben Roethlisberger knows that. He told The Cook and Poni Show on 93.7 The Fan on Tuesday that AB requested his name be changed to Ronald and Ben obliged. You don't question it, you just go with it.
Next: Steelers fans chosen for Fandom 250
""I have no idea, I don't know where it came from, he was calling himself Ronald Ocean and was calling me Billy for whatever reason, and I have no idea." – Ben Roethlisberger"
If he's going to be making those mind-blowing touchdown grabs then you call him whatever the crap he wants to call him. You also get out of my dreams and get into my car, Billy Ocean. Get in the backseat, baby.