Steelers News: Le'Veon Bell, Ben Roethlisberger, Mike Tomlin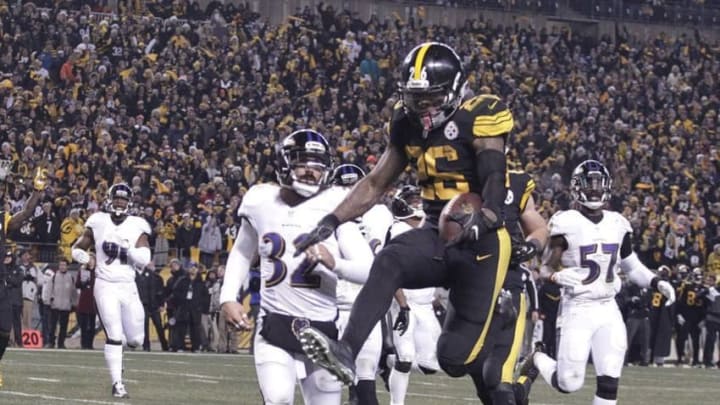 The Steelers are your AFC North Champions and hold the No. 3 spot in the playoffs with their big Christmas Day win over the Ravens.
SC_Header_Large 5 /
While the ream gets ready for the regular season finale against the Browns we'll be busy looking for mentions of your Black & Gold so we've got you covered. Here's your Steelers Morning Huddle for Thursday, Dec. 29th.
Your MVP
Even missing the first three games suspended for violating the league's substance abuse policy for missing drug tests couldn't hinder the production of running back Le'Veon Bell. Since joining the team he's been the deadly weapon the offense has for every situation.
More from Still Curtain
Because of that, Bell's teammates have voted him as the 2016 Steelers MVP. Teresa Varley has Ben Roethlisberger's description of what makes Bell so valuable to the offense.
""We always knew he had an awesome talent for running the ball, but I think what is most impressive is his blocking and catching the ball out of the backfield. He is an every down back and we can use him for every situation. I think that is what is most impressive." – Ben Roethlisberger"
His rhymes are straight fire as well. Or so I've heard.
Eyes front
Ben Roethlisberger doesn't have to worry about the Cleveland Browns this Sunday because he's going to man the headset so in the mean-time he's focusing on the potential Wild Card Game matchup. ESPN's Jeremy Fowler says that Roethlisberger is looking towards the Miami Dolphins and the playoffs.
Pittsburgh will host Miami next weekend as long as the Dolphins don't beat the Patriots and the Kansas City Chiefs don't lose to the Chargers. Stranger things have happened but I'd say it's a safe bet that the Dolphins are coming to town.
Time to get revenge for Ben's torn meniscus that he miraculously healed from in one week but still kind of sucked in that first game back against Baltimore. Vengeance will be ours!
It's a numbers game
There's a lot of talk about who is going to get rested this Sunday against the Browns since it is a meaningless game and all but it is important to remember the logistics involved in resting players for a regular season game.
Around the NFL reminds us how Mike Tomlin talked about wanting to ensure guys like Roethlisberger, Bell and Antonio Brown get rest as well as Maurkice Pouncey as those guys are ones you just don't want to have to play without.
But considering that only seven guys can actually sit out the rest of the list is pretty short after that. Stephon Tuitt and Ladarius Green are most likely still going to be out so that leaves only one other guy who gets to wear street clothes on Sunday. Who do you think it will be?