Still Curtain Podcast Ep. 4 (Money isn't holding the Steelers back from signing Le'Veon Bell)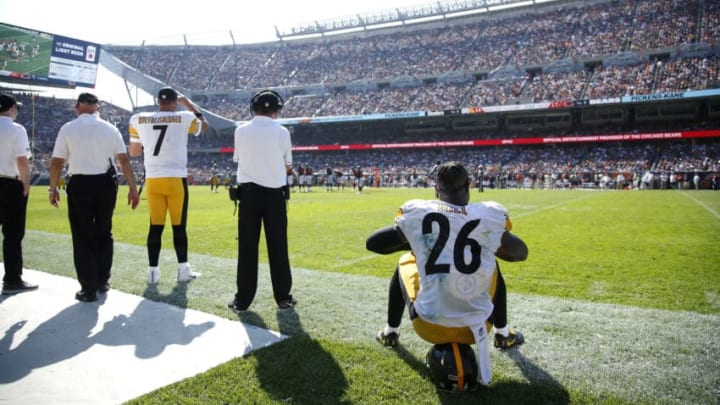 CHICAGO, IL - SEPTEMBER 24: Le'Veon Bell /
Something is holding the Pittsburgh Steelers back from signing Le'Veon Bell to a long-term deal, but that something isn't money.
The rumors than Le'Veon Bell is demanding $17 million a year isn't as true as they sound. Yes, Bell continues to put his feelings on social media, and yes, the team isn't excited about the way the last two offseasons have played out between the two sides. But neither of those are the reason a deal hasn't gotten done.
If the Steelers wanted to sign Le'Veon Bell to a long-term deal, they would've. A number closer to $15 million is what Bell is realistically looking at, and finding that money wouldn't be a problem for Pittsburgh. So, if money isn't a problem, what is?
That's when it gets interesting. Negotiations between the two sides have ended until after the NFL Draft. Maybe it's just speculation, but one name can be the roadblock between Bell and a long-term deal.
ESPN's Jeremy Fowler breaks down everything fans need to know about the Steelers and Le'Veon Bell. While some of the facts were already known, there were some revelations that may have caught readers off guard.
If everything Fowler says is true, the Steelers may have a new running back by the start of the next season. But depending on how the draft works out, they may be stuck working out a contract with Bell.
Neither option is a bad move. No matter what, Pittsburgh will have a high-quality running back moving forward. One may cost more money than the other, but at the end of the summer, the Steelers' backfield will be Pro Bowl caliber.
Next: Maybe the Steelers can learn from the Patriots
No one has answers, right now. It's all a guessing game as to what's happening in the front office of Heinz Field. But for some reason Le'Veon Bell hasn't gotten his money. That something will be answered on April 26.