Strackbein Says: Le'Veon Bell is expendable, and just trying to leave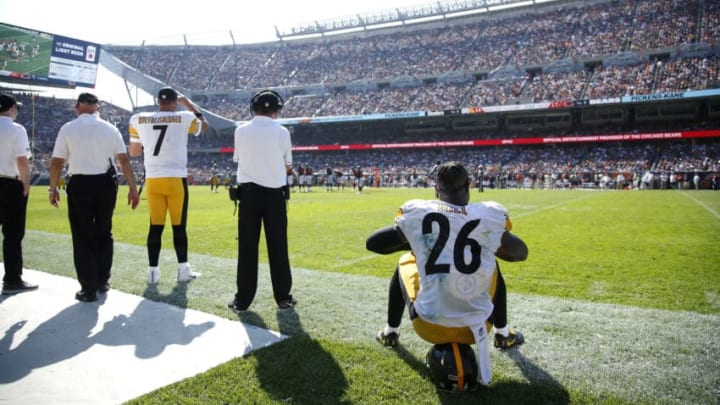 CHICAGO, IL - SEPTEMBER 24: Le'Veon Bell /
Say whatever you want to say about Le'Veon Bell, but the truth is, he wants nothing to do with the Pittsburgh Steelers, and he's more replaceable than people believe.
At first, Le'Veon Bell had every right to complain about not getting his money. The man has been arguably the best running back in football for the last two seasons, and deserves to redefine the market for his position.
Not getting a reasonable contract was a justifiable reason to voice his displeasure with the team. He earned his money, and should've been rewarded immediately.
Even after he turned down $12 million a year with $30 million over the first two seasons, Bell still had reasons to want more money. His franchise tag in 2018 was going to be a little less than $14.5 million, so not taking $12 million was a business move.
Then the 2018 offseason rolled around. Bell was easily the league's top backfield member. Whether it was running or catching, no running back in the league was doing it like Juice. He proved that taking a chance on himself was a smart move, and once again, deserved more money.
The money shouldn't be what he's asking for, though. Some reports say $15 million would do, and it should. Hand the running back $15 million, ink him in for a three or four year contract, and move on with the offseason.
Other reports say $17 million. A number no running back should ever be rewarded no matter how well he plays. This is a league where the quickest drop offs come from those taking hits between the tackles.
But this article is about Bell's money demands. It's about the fact that Bell has given up on signing a long-term deal with the Steelers, and is now looking to get out of Pittsburgh and be payed by a team willing to take on his absurd demands.
There are teams who would sign Bell for a little under $17 million. I know it, you know it, and most importantly, Bell knows it. He's not the smartest business man, but he's intelligent enough to realize he's playing for a team who doesn't like controversy, and who isn't willing to give up that much cash to a running back.
So, he's changed his game plan to earn his pay. Instead of negotiating with Pittsburgh, he's going to continue making headline after headline until the team is fed up. Starting with a few media comments, moving towards a tweet about being the victim and ending with a new rap single highlighting the city and team that has a problem with him not showing up for summer workouts.
It'll work out for both sides. Maybe not this summer, but by the next NFL Draft, Le'Veon Bell will either by in a new uniform or looking for one.
Leaving no problem for Pittsburgh. If this offseason proved anything, it's that there are new running backs coming to the NFL, and they're going to take it by storm.
Look at the last two draft. Kareem Hunt, Saquon Barkley, Sony Michel, Nick Chubb, Derrius Guice, Alvin Kamara, Leonard Fournette, Dalvin Cook, Christian McCaffrey, Ronald Jones II, the list goes on. This might be a passing league, but the versatile running back is making it's way to the league by storm. Meaning it's only a matter of time before Le'Veon Bell is just another back in a league or great runners.
Next: 5 Steelers who should be in the Hall of Fame
It's no longer best for both parties to get a deal done. Bell doesn't want to be in Pittsburgh, and no one really wants Bell in Pittsburgh. This year, he needs to stay, and the team's Super Bowl hopes somewhat depend on it. But after that, it's time to move.
Because Le'Veon Bell's plan has changed. And it's become getting out of here as quickly as possible.