Pittsburgh Steelers: Why the Le'Veon Bell holdout was a TERRIBLE decision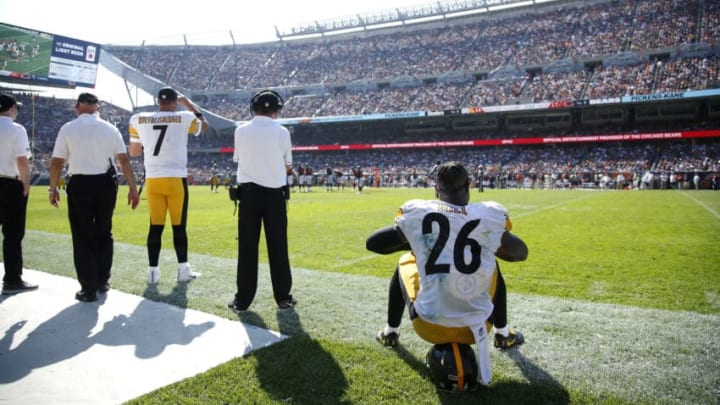 CHICAGO, IL - SEPTEMBER 24: Le'Veon Bell /
Pittsburgh Steelers running back Le'Veon Bell is showing signs that he will be ending his monotonous holdout very soon.
Le'Veon Bell claimed in a tweet on Monday, November 5th, that he will be leaving the sunshine state. Where is he heading? Nobody actually knows. Statements from Bell should be taken very lightly, considering there have been multiple accounts of Bell claiming one thing and showing the other. All nonsense aside, Bell and his agent Adisa Bakari might have made a terrible decision by holding out for the majority of the regular season.
Why the Le'Veon Bell holdout was a TERRIBLE decision
Bell has been widely known as the best running back in all of football for quite some time. His patience, elusiveness, power, and breakaway speed have helped to propel him to that upper echelon of talent along with Todd Gurley, David Johnson, and Ezekiel Elliot as the best rushers in the league. This tier of running backs is set to earn a great sum of money throughout their careers, two of them already signing deals averaging about 38 million dollars of guaranteed money.
This may seem somewhat low for such talented players, but running backs tend to have a shorter life-span in the NFL than other skill positions because of the beating they take week in and week out. Bell was offered a monstrous 70 million dollar deal this past summer which still didn't appease his desires. This led to the inevitable franchise tag where NFL teams are allowed to keep talent on their roster and the tagged players have no choice where they would like to play the following year. Regardless of whether or not one sides with the Steelers or with Bell, it is now clear that Bell should have played or returned earlier this season.
Financial Loss
The opportunity cost of playing this season didn't seem to be worth the taxation on Bell's body. This is understandable. Seahawks safety Earl Thomas experienced the poor side of the franchise tag as he suffered a season ending injury recently, which could play a factory in how much money he earns next year.
The brutal nature of football could certainly derail Bell from earning the amount he wants, but he is missing out on money that he may not make back in the future. This is especially true because of the fact that Bell could have signed, collected the guaranteed money from the franchise tag, and not stepped foot on the field.
Bell has now missed out on around 7.7 million dollars in 2018 and if he holds out for Week 10 he will miss out on roughly around 8.6 million total. This is more money than every back in the league in 2018 other than LeSean McCoy. This is not a financial decision that most agents should or would advise.
The Rise of James Conner
This goes without saying, the absence of Bell has created a huge window for James Conner to show that he is not only a cancer survivor but a great football player as well. The second year back was originally expected to handle first and second down work this season, while rookie Jaylen Samuels would maintain passing down work, but Conner has shown that he is a phenomenal pass catcher.
He is currently building a very impressive resume, outperforming Bell's 2017 performance in both scrimmage yards and touchdowns. The Pittsburgh University alum has been a menace for opposing defenses this season, posting incredible numbers, and flexing his "Conner Strong" tattoos to the city of Pittsburgh almost on a weekly basis. Here are some metrics to show you how good Conner has really been if you didn't already believe:
Looking Forward
For Bell, it may be beneficial that the Steelers basically have no incentive to play him once he returns. Their offense has been better than ever, and there isn't any reason why Mike Tomlin and Randy Fichtner should throw a wrench into their offensive game plan. Bell could get paid, sit the bench, and wait for next year to sign a big contract and play football. This contract however, will most likely not be with the Steelers.
If there is one thing that we have learned from Bell's holdout, it is that he is replaceable. It is widely understood that Bell is an incredible talent, but he is not as valuable to the success of this team as first thought. The holdout has more or less proven that running backs can be found in a multitude of places. Colbert and Rooney II most certainly would rather roll with the hometown kid who put the city on his back than the drama engine that Le'Veon has been.
Bell's agent has shown concerns about his workload while Conner, when questioned about the hefty workload he has received, claims "I'm built for this".
The Steelers will probably reduce their offer to something more affordable and Bell will be forced to decline. All potential suitors have now seen that our offense produces great rushers regardless of who it is. This puts a dent in Le'Veon's monetary value along with a slew of other issues he has brought to the table. Drug test failures, late night tweets before games, and a handful of injuries are all things the Steelers need to avoid right now. Mike Tomlin recently said during a short ESPN interview "We need volunteers –  not hostages". Conner is one of the volunteers that Tomlin is referencing.
So while the drama continues for Le'Veon, the price tag on his play continues to decrease. This coincides with his desire to resign with the Steelers, and his desire to make an unheard of amount of money at his position.
James Conner has defeated cancer not only literally, but theoretically as he may have finally pushed Le'Veon Bell straight out of Pittsburgh and introduced a new humble, heart warming, and special experience for Steelers fans to run with.