The good, the bad and the ugly from the Steelers loss against the Seahawks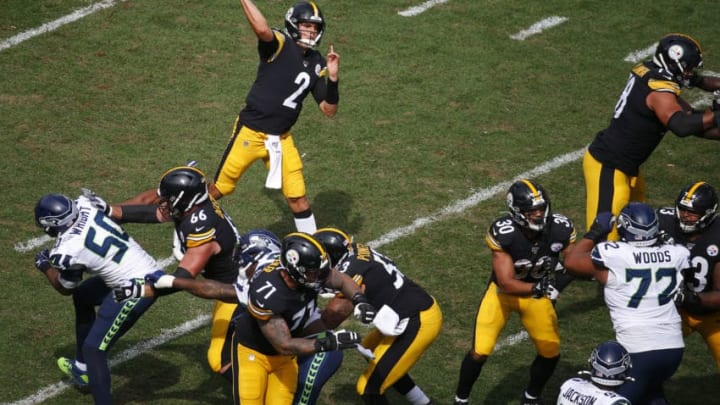 PITTSBURGH, PA - SEPTEMBER 15: Mason Rudolph #2 of the Pittsburgh Steelers passes against the Seattle Seahawks on September 15, 2019 at Heinz Field in Pittsburgh, Pennsylvania. (Photo by Justin K. Aller/Getty Images) /
PITTSBURGH, PA – SEPTEMBER 15: Vance McDonald #89 of the Pittsburgh Steelers celebrates his touchdown during the fourth quarter against the Seattle Seahawks at Heinz Field on September 15, 2019, in Pittsburgh, Pennsylvania. (Photo by Joe Sargent/Getty Images) /
The Steelers offense got on track against the Seahawks and found the end zone three times.
Finding the end zone twice against the Seahawks was TE Vance McDonald, the player for whom the Steelers acquired in 2017 via a trade with the San Francisco 49ers.  McDonald caught all 7 passes thrown his way.  Coupled with the solid play of Rudolph, McDonald's performance was a good sign not only for him but for the team as well.
If he can stay healthy, McDonald will become the 'security blanket' for Rudolph in the same vein as Heath Miller was for Ben.  Despite the loss, the Steelers offense scored 26 points, of which 8 points came courtesy of two FGs and two extra points by Chris Boswell.  It's good to see him kicking with confidence so far this season after the bad campaign he experienced last season.
Another good aspect of the game was the protection the offensive line provided both QBs, surrendering a lone sack.  I have stated this several times, the Steelers offensive line is one of the best in the NFL, in my opinion.  Rudolph will need all the protection he can get from here on out.  Although the running game has yet to get on track, the O line has held up in the passing game.
Yet another good facet of the game was the pressure the defense was able to generate, which resulted in 4 QB sacks, two and half of which were credited to Stephon Tuitt.  When a defensive lineman wins a one-on-one battle to get a sack, you know the Steelers defense is doing what it desires to do-generate pressure without having to send the 'house,' so to speak.
Let's now review some of the bad aspects of the game.