The good, the bad and the ugly from the Steelers loss against the Seahawks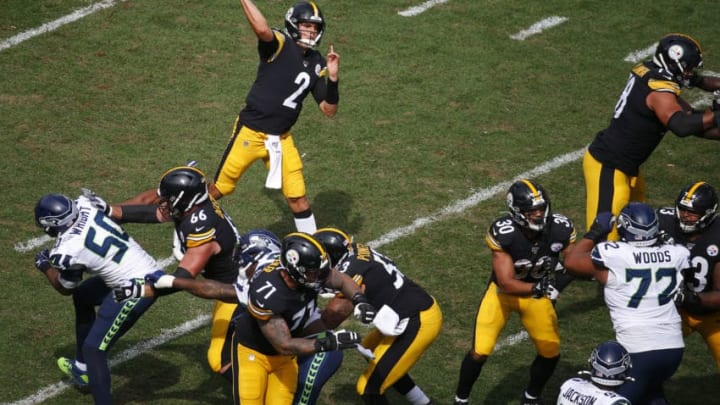 PITTSBURGH, PA - SEPTEMBER 15: Mason Rudolph #2 of the Pittsburgh Steelers passes against the Seattle Seahawks on September 15, 2019 at Heinz Field in Pittsburgh, Pennsylvania. (Photo by Justin K. Aller/Getty Images) /
PITTSBURGH, PA – SEPTEMBER 15: C.J. Prosise #22 of the Seattle Seahawks rushes against Devin Bush #55 of the Pittsburgh Steelers on September 15, 2019, at Heinz Field in Pittsburgh, Pennsylvania. (Photo by Justin K. Aller/Getty Images) /
Lapses in coverage continue to haunt the Steelers defense.
The Steelers first-round pick in the 2019 draft, Devin Bush, did not perform well in coverage.  I expressed this concern when we drafted him.  Because of his diminutive stature, I was concerned that Bush would not be able to cover big TEs.  The lapses in coverage were not isolated to him; however, leading 0-7, the first TD for the Seahawks was a pass to a TE for whom Bush was responsible; Bush did not fulfill that responsibility.  Take a look at it and judge for yourself: Bush
If you watch the video, it looked like Bush was looking into the backfield despite being lined up over the TE.  If the TE releases, he's Bush's guy.  There's no reason to look into the backfield.  Bush was in coverage against a TE on another series.  With the Steelers up 7-10, the Seahawks scored a TD on a pass to the TE in the seam.  Take a look: Bush again
Look, I understand Bush is a rookie and is going to make rookie mistakes, but the Steelers defense can NOT afford to continue to have lapses in coverage and expect to win games.  Teams will exploit the mismatch that is 5'11" Bush versus any TE who is taller than 5'11".  That's the nature of the NFL; teams look for mismatches and try to exploit them.  Football 101 stuff.
Taking the lead, albeit by 3 points, into the locker room at half time, the Steelers were winning the game.  The second half saw the defense surrender 3 TDs en route to giving up a total of 28 points.  As well as the defense played in the first half is as poorly as they played in the second half.
Here is the icing on the cake: The Seahawks had a 3rd down and 16 yards to go with 2:11 left in the game.  Russell Wilson, who is a mobile QB, ran for 15 yards to set up a 4th and 1. The Seahawks converted, and the game was over.  Where was the spy on 3rd and long?  It's not like the Steelers didn't know that Wilson was a threat to run the ball.  Just a bad call in a critical moment. The defense had better figure it out quickly or this season will be a losing one.
Let's wrap up this discussion with a look at the ugly elements of the game.