3 bold predictions for Steelers in week 6 vs Chargers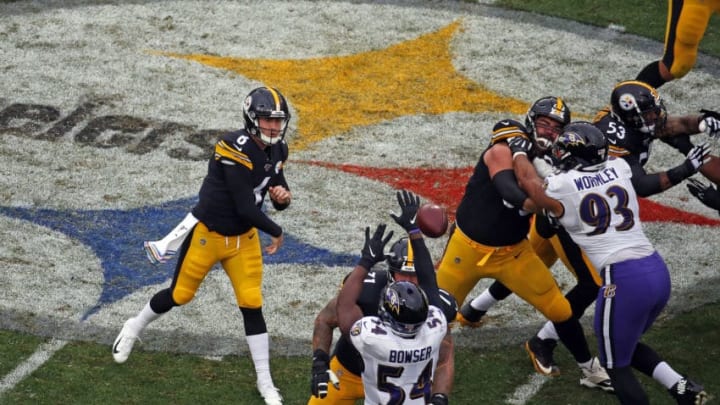 PITTSBURGH, PA - OCTOBER 06: Devlin Hodges #6 of the Pittsburgh Steelers passes against the Baltimore Ravens on October 6, 2019 at Heinz Field in Pittsburgh, Pennsylvania. (Photo by Justin K. Aller/Getty Images) /
The Steelers hit the daunted west coast for a showdown against the Los Angeles Chargers. The Steelers face a significant uphill battle for the rest of the season, and it will start this week with a must-win.
With Mason Rudolph declared Out with a concussion, it is officially time for the "Duck Dynasty." Devlin Hodges will get his shot to impress and try to keep the Steelers season alive.
Well, the good news is the Steelers defense will have a healthy squad, right? Oh, wait…
Steve Nelson sounds doubtful, Barron is out, and even Hilton was a little banged up? Yikes… That leaves Artie Burns to get the nod potentially.
As much as I'd like to say this matchup is worthy of prime time if the Steelers don't play a perfect game, it won't be. They will have to be crisp, clean, and swift in their duel.
The Chargers are looking to rebound from a loss last week that was uglier than what the scoreboard indicated. They were given fits and had mental mistakes all day long.
Philip Rivers led his team to an unthinkable come back last year at Heinz Field. Despite the injuries this week, this is still a better defense than 2018.
The offense for the Steelers has been questionable most of the time, but if they want to grow more confidence, what better way than to get your rookie quarterback a W?
This week I see three big things happening if things go as well as they could (fingers crossed!)
Defense forces 7 Charger turnovers
The Chargers coughed the ball up three times last week, two being in the Broncos red zone. Will the Steelers continue their trend of forcing 3 turnovers a game as they have in their past 4 games?
I am going to say YES! They will force three fumbles and four interceptions–one by Artie Burns!
The Steelers have been harassing quarterbacks and taking advantage of miscues after being embarrassed in Foxboro to start the season. They will have to have a strong performance this week to rise to the call of duty.
Pittsburgh will put pressure on Rivers and eliminate the ground in a big way. The season rests on their shoulders.
Offense records 200 yards rushing
You read that right. They haven't even eclipsed 100 yards this season, but they will this week!
The ground game has improved steadily, and it will be the Conner & Snell show after Samuels' knee surgery. They both run with power that Steelers fans crave.
This will be crucial in helping their rookie quarterback in his first start. I believe the offensive line is ready for battle and replicate the Broncos formula for success last week.
This is the game the Steelers need to have heading into the bye week. It's time for Steel Nation football to take over and seal the win!
Duck throws for 4 touchdowns
I can't remember who said, but someone did! Throw to score, run to win!
With the defense dominating and the ground game wearing the Chargers defense out, Duck is going to toss four touchdowns! Two deep and two inside the 10 yards line.
He is going to have the game of his life and lead the Steelers to a much-needed victory. He will give the Steelers confidence they need moving forward and who knows what further quarterback controversy this could create.
The world champion of duck caller will have a championship performance in Pittsburgh's most dire time. The Quack Attack offense will be firing on all cylinders, baby!
Steelers Nation rolls into the 30K capacity Dignity Health Sports Park Sunday at 8:20 PM. Check back into Stillcurtain.com for all your latest news, analysis, and more for this week's game!
Here we go, Steelers!