Experts overwhelmingly like Los Angeles over Pittsburgh in prime time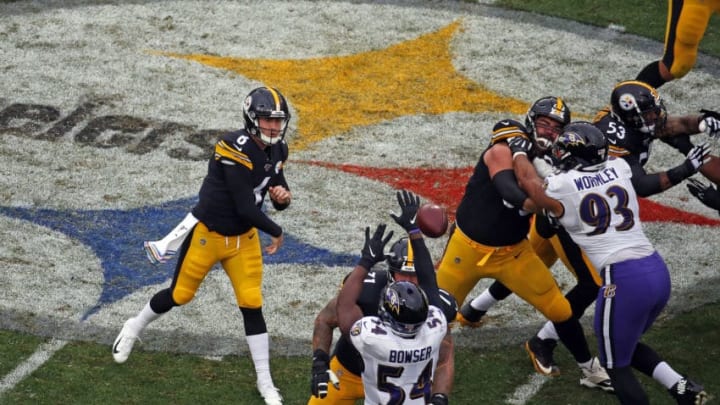 PITTSBURGH, PA - OCTOBER 06: Devlin Hodges #6 of the Pittsburgh Steelers passes against the Baltimore Ravens on October 6, 2019 at Heinz Field in Pittsburgh, Pennsylvania. (Photo by Justin K. Aller/Getty Images) /
Well, it's come to this. The 1-4 Pittsburgh Steelers are tipped to win by only 1% of analysts on NFLpickwatch.com.
The black and gold travel to the West Coast to face the 2-3 Chargers, a 6.5-point favorite, on Sunday Night Football. 22% of experts pick the Steelers to cover, but there's little faith in an outright win.
Mason Rudolph remains sidelined with a concussion after being hit by Ravens safety Earl Thomas in last weekend's overtime loss.
The offense is also banged up elsewhere, with Jaylen Samuels (knee), James Washington (shoulder), Roosevelt Nix (knee), and Vance McDonald (shoulder) all out.
It could be a reunion of sorts for the Chargers, as tight end Hunter Henry practiced in full Friday for the first time since suffering a knee injury Week 1 against the Colts.
More from Still Curtain
Running back Melvin Gordon has returned from his contract holdout and also figures to see more snaps this week in tandem with Austin Ekeler:
""You could see Melvin's rep count going up," Chargers coach Anthony Lynn said Friday. "I mean, I think last week Austin [Ekeler]'s rep count was much higher than Melvin's. You could see Melvin's going up this week.""
It hurts to pick the Steelers to lose, as I've been doing a lot lately. Unfortunately, I can't see a way they win this game. We've all fallen in love with third-string quarterback Devlin Hodges recently, but it's a big ask for an undrafted third-stringer to win his first career start three time zones away from home on national television.
James Conner survived his injury scare, but with Samuels down and Benny Snell's contributions minimal of late, Pittsburgh's running game runs the risk of being one-dimensional and easily figured out by the Chargers' 11th-ranked defense.
Pittsburgh has quite the defense itself, which may be overshadowed by the team's poor record:
However, a good defense can only get you so far if the offense remains impotent and does not put points on the board. I'm on record predicting a 21-10 Chargers win.