Steelers vs Browns: 3 Key Matchups to watch in week 13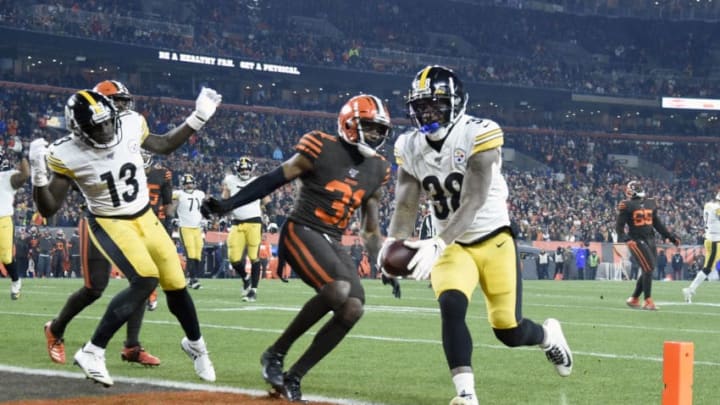 CLEVELAND, OHIO - NOVEMBER 14: Running back Jaylen Samuels #38 of the Pittsburgh Steelers runs for a touchdown during the third quarter against the Cleveland Browns at FirstEnergy Stadium on November 14, 2019 in Cleveland, Ohio. (Photo by Jason Miller/Getty Images) /
The Duck Dynasty returns–this time at home to Steelers Nation. The Steelers will host the Browns, seeking vengeance from the results two weeks ago.
This could be the most anticipated matchup from a Steelers-Browns game since… maybe 2007. It's been a long time.
After the Browns handled the Steelers two weeks ago in Cleveland, they will now travel to the Steel City. Let me tell you; the Steelers are surely ready.
Not only did the Browns snap the Steelers 4 game win streak, in the process, but they also headhunted until the Steelers' top two receivers were knocked out, they bullied the Steelers at the line of scrimmage, and cheered on Myles Garrett as he bashed Mason Rudolph in the head with his helmet.
This might be the most violent rematch since the 2015 AFC Wildcard game between the Steelers and Bengals. The Bengals and Vontaze Burfict had already injured Le'Veon Bell and would cost themselves the game with a hit of Antonio Brown and attack of (coach) Joey Porter.
The NFL was wise to move this to a 1 PM game. It could get ugly.
Nonetheless, emotions and drama aside, the Steelers have business to take care of. If they don't take care of said business, it could end their season.
With no room for error, the Steelers have a lot of matchups to prepare for and ultimately win. With a lot of meat on the bone for the matchups featured in this game, here are my three key matchups to watch for…