Steelers vs Browns: 3 Key Matchups to watch in week 13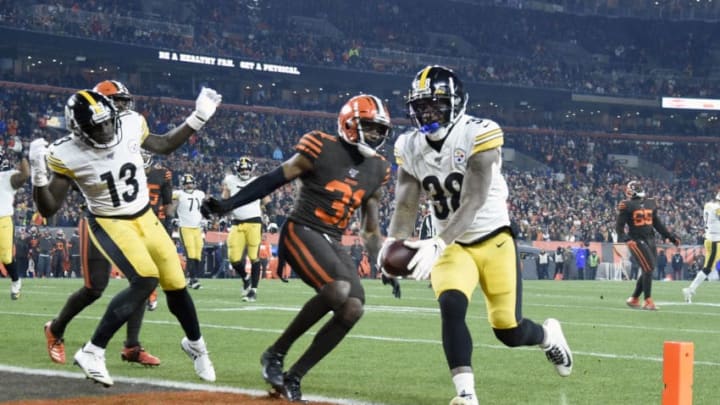 CLEVELAND, OHIO - NOVEMBER 14: Running back Jaylen Samuels #38 of the Pittsburgh Steelers runs for a touchdown during the third quarter against the Cleveland Browns at FirstEnergy Stadium on November 14, 2019 in Cleveland, Ohio. (Photo by Jason Miller/Getty Images) /
CLEVELAND, OHIO – NOVEMBER 14: Wide receiver Odell Beckham #13 of the Cleveland Browns is tackled by cornerback Steven Nelson #22 of the Pittsburgh Steelers after review falls 1 yard short of the touchdown in the first quarter of the game at FirstEnergy Stadium on November 14, 2019 in Cleveland, Ohio. (Photo by Jamie Sabau/Getty Images) /
Nelson & Haden vs OBJ & Landry
Here is the thing about the first matchup: neither OBJ or Landry lit up the stat sheet.
Here is the reality: They both made key plays that created separation in the game. From the 40 yard bomb to OBJ against Nelson to busted coverage for a touchdown to Landry, these receivers made enough plays.
Odell Beckham's first catch was reversed from a touchdown but set up the game's first score on a touchdown from Baker Mayfield via QB sneak. It set the tone.
Jarvis Landry took advantage of wide-open space on a touchdown pass that put Cleveland up 14-0. With an ineffective offense from the Steelers, this ultimately put the game away.
After those plays, however, the Steelers' top two defensive backs kept the LSU twins under wraps. Neither got over 60 yards receiving.
This round, the Browns now have a look at how the Steelers approached the two receivers. The good thing? The Steelers have an idea now at how the Browns will want to set up this secondary for round 2.
With these two coming off big games against the Dolphins, the Steelers will have to find a way again to keep them under control.
If they can't improve or at minimum replicate their consistent coverage from round 1, it could be a long day for the secondary.