First-Team All-Pro honors well-deserved by three Steelers defenders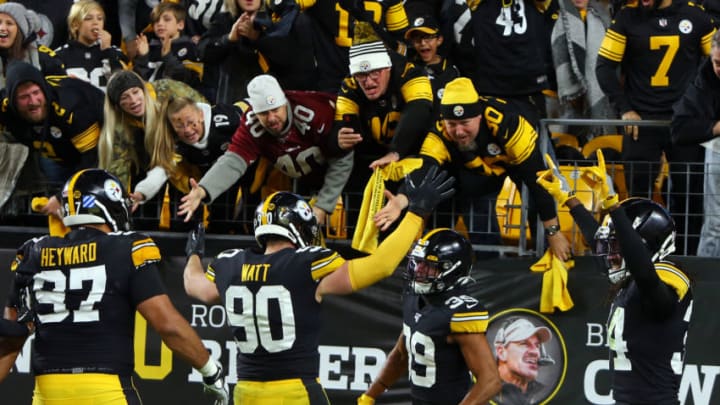 Minkah Fitzpatrick #39 of the Pittsburgh Steelers. (Photo by Justin K. Aller/Getty Images) /
The Steelers had three players named to the AP first-team All-Pro this week. Here's why they each deserved this honor from their 2019 seasons.
The Steelers may not have made the playoffs this year, but that doesn't mean the season was a total loss. Pittsburgh's defense was fantastic in 2019 – leading the league in takeaways and finishing top 5 in both points allowed and yards allowed this season.
As a result of their valiant efforts, three players from Pittsburgh's defense were recently awarded one of the highest honors in football – cracking the shortlist of first-team AP All-Pro players. Those names were T.J. Watt, Minkah Fitzpatrick, and Cameron Heyward.
T.J. Watt
No player was more deserving of All-Pro honors than T.J. Watt this season. After a breakout performance in 2018, Watt raised the bar through the roof with one of the most dominant seasons we have seen in ages from the edge defender position.
Watt impressed with his 14.5 sacks and eye-popping 8 forced fumbles this season, but it was his relentless pursuit of the opposing teams' quarterback that made it impossible for him not to catch your eye. Watt's 36 quarterback hits were 15 more than what James Harrison had in his best season.
Watt impressed so much that he actually made the All-Pro list twice – first-team All-Pro as a defensive end and second-team as a linebacker. He is a clear finalist for Defensive Player of the Year.
Minkah Fitzpatrick
Second in command to T.J. Watt all season was Minkah Fitzpatrick. Though he hasn't even played a full season in Pittsburgh, Fitzpatrick made more splash plays in the secondary than anyone since Troy Polamalu roamed the back-end.
Minkah's 8 total takeaways led the NFL this season, and his impact on this team was felt from the gate. The Steelers were one of the only teams this year to sport two Defensive Player of the Year candidates. Fitzpatrick's first-team All-Pro honors puts him in elite company with Jamal Adams as the only two players to receive this award for their 2019 season.
Cameron Heyward
Cam Heyward is making the second All-Pro appearance of his storied career. Though he wasn't as flashy as Watt or Fitzpatrick this season, he was the epitome of consistency for the Steelers this season.
Heywards 9.0 sacks rank just 22nd in the league this season. However, his 91.5 overall grade from Pro Football Focus was the second-highest mark of any defensive player this season (finishing only behind Aaron Donald). Heyward is a veteran who plays his tail off every snap, and he deserved to land on this list this year.
Other names could have received nominations for their efforts in Pittsburgh this season, but these three stand above the rest. With Watt and Fitzpatrick still in their early 20's, it will be interesting to follow the fantastic careers they no doubt have ahead of them.