Will Steelers be at a disadvantage in 2020 if fans can't attend games?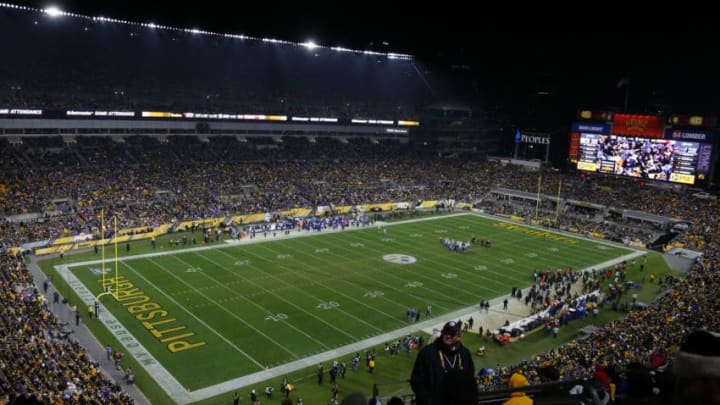 PITTSBURGH, PA - DECEMBER 15: A general view of Heinz Field during the game between the Pittsburgh Steelers and the Buffalo Bills on December 15, 2019 at Heinz Field in Pittsburgh, Pennsylvania. (Photo by Justin K. Aller/Getty Images) /
It's still unclear whether or not fans will be able to attend NFL games in 2020. Will the Pittsburgh Steelers be at a disadvantage without their home crowd?
There are some NFL stadiums that are difficult to play in. Teams dread going to Denver because of the high altitude and thin air, while traveling to Green Bay in December means facing bitter-cold temperatures. However, the Steelers have a home-field advantage for a different reason.
In addition to an open-ended stadium that often makes it challenging for opposing kickers to judge the wind, Pittsburgh is known to have on the largest and most rowdy fan bases in all of football. If you think that home-field advantage isn't real, history begs to differ.
Steelers have been dominant at home
Though the Steelers finished 8-8 last season, they were 5-3 at home. They were also 5-3 at home in 2018, and 6-2 from 2014 to 2017 at Heinz Field. That's a record of 34-14 at home over the past six years.
Pittsburgh knows the advantage of playing with a fired-up crowd surrounding them. So will they be at a disadvantage in 2020 if fans are prohibited from attending games?
There is no definitive answer to this. While betting lines give three points each week to the home team, the advantage of playing on your own turf differs from team to team. Judging by their home and away record as of late, the Steelers will be one of those teams who could really suffer from this.
It's never easy for opponents to come into Pittsburgh and wipe the floor with the Steelers. In their three home losses last season, Mike Tomlin's team lost by a combined 12 points – with two of the three games being decided by a field goal or less. In comparison, the Steelers were outscored by 58 points in their road losses last season, as they were pummeled by teams like the Patriots, and Ravens.
The return of Ben Roethlisberger is clearly going to help the Steelers out in 2020. Last year, they won 8 games with Mason Rudolph and Devlin Hodges at the helm, and Pittsburgh is expected to have a winning record this year with a healthy Roethlisberger.
However, with or without Big Ben, Pittsburgh's history at home hasn't changed much. The Steelers are one of the better teams in the league at taking care of business on their home turf, but if fans aren't able to show up to the game, it will be interesting to see how that impacts our team.
Whether or not fans are permitted to attend NFL games in 2020, the Pittsburgh Steelers still stand to be a competitive team with a very good defense and the return of their star quarterback. However, that home-field advantage may not be nearly as big as it has been in the past without a roaring stadium full of crazed fans behind them.