How high should expectations be for the Steelers in 2020?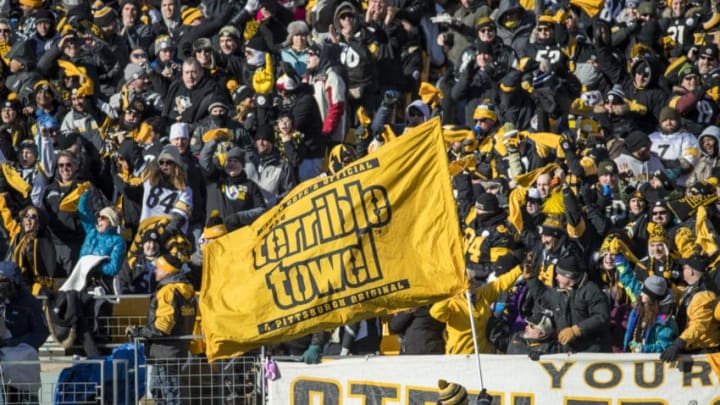 PITTSBURGH, PA - JANUARY 14: Pittsburgh Steelers fans cheer as a stadium staff member waves a Terrible Towel flag during the second quarter against the Jacksonville Jaguars in the AFC Divisional Playoff game at Heinz Field on January 14, 2018 in Pittsburgh, Pennsylvania. Jaguars defeat Pittsburgh 45-42. (Photo by Brett Carlsen/Getty Images) *** Local Caption *** /
A question pondered every year for every team; we take a closer look at the Pittsburgh Steelers chances in the AFC in 2020.
Recently on NFL's Network "Good Morning Football," Steelers WR Juju Smith-Schuster made a guest appearance with co-host, Kyle Brandt, and was asked the question, "what do you see for the Steelers & what's going to happen"?
From the list of draft picks to the return of QB Ben Roethlisberger, our excitement as fans grow with Juju as he continued in projecting what can happen with the Steelers in 2020. Red zone & quarterback inefficiency greatly hindered this team from succeeding, but to be able to finish still 8-8 was shocking. It landed HC Mike Tomlin in coach of the year conversations, exposed a future quarterback issue, OC Randy Fichtner continues to not get out of his way, and that this defense is poised to contend.
Steelers Odds Tells Truths About the Future?
Two weeks ago, Still Curtain's editor and fellow colleague, Tommy Jaggi, detailed the Steelers' odds at "+2200 [marking them at the time] the 11th best odds to win the big game", courtesy of the Action Network". On the subject of where the ceiling is for Pittsburgh not only for the Super Bowl but in the AFC as well, Vegas has spoken once again in light of all this.
According to the Caesars Casino & Sportsbook, the almighty Black & Gold now sits at +2800 to hoist Lombardi 55, 6th best in the AFC & 13th in the NFL. A never-changing number that gets the blood of betters flowing at an immaculate pace by the week, some chips on the Steelers could pay off a worthy sum.
Merely Playoffs, Or Better?
In reality, Pittsburgh has a roster suited to make the run for glory. Every negative bit of this team, aside from a couple of defensive standpoints that shouldn't have much effect at all, should already be answered or covered by opening week. Ben Roethlisberger receiving surgery at 38 years old on his throwing elbow that he's never had an injury with? In his interview two months ago with the Pittsburgh's Post-Gazette's, Ron Cook, Roethlisberger controlled headlines claiming that "To be able to throw without pain now? That feels nice. That's a nice feeling. I know I'm not getting any younger, but I feel younger because I don't have any pain."
A Steelers offense that enormously struggled, and was statistically the most inefficient team scoring in the red zone (TDs only) at a 35% rate, according to teamrankings.com? Well, they return with a QB that threw for 5000+ yards, 30+ touchdowns, and was 5th in QB DYAR, 8th in DVOA, & 4th in QBR, based off of footballoutsiders.com quarterback efficiency metrics, last he played in 2018. GM Kevin Colbert also brings in a foreseen signing with TE Eric Ebron, where the Steelers should model after the Colts, which limited his lack of ability to block but upside in athleticism as a threat in the red zone.
Add in the rookies of Chase Claypool & Anthony McFarland, that bring different elements of size & speed to their selective positions, plus the growing development of a young offensive skill group, and there's a lot of room of excitement for this team in 2020.
Moreover, it still may not be talked enough how this Steelers defense could even take a step above than what it did in 2019. Depth would be its critical issues in LB & DT, but the return of Stephon Tuitt should subside the loss of Javon Hargrave, and the departure of Mark Barron is the best thing that could've happened. Questions have been in the air of what they should do at strong safety as well, but the multiple defensive schemes the Steelers excel at gives them options & room to breathe not to stress over.
However, their biggest competition will not be themselves to keep this all together or to stay healthy, but the fact that the Kansas City Chiefs & Baltimore Ravens are just more equipped for success. The loss of future Hall of Famer, LG Marshall Yanda, will be a pill to swallow for Baltimore, however, neither had any key losses to free agency & excelled in the draft. Could the divisional round be the last we see the Steelers in 2020?