No public training camp is a big blow to Steelers Nation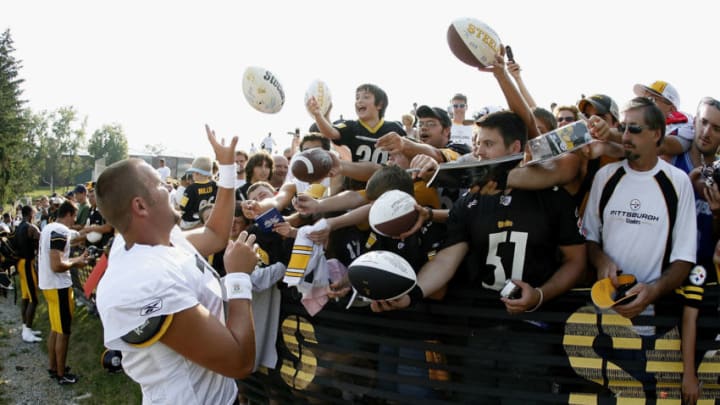 LATROBE, PA - JULY 28: Ben Roethlisberger #7 of the Pittsburgh Steelers signs autographs during training camp at St. Vincent College on July 28, 2008 in Latrobe, Pennsylvania. (Photo by Gregory Shamus/Getty Images) /
Pittsburgh has one of the NFL's most passionate fan bases. Here's why a closed training camp this year will hard on Steelers Nation.
NFL training camps are something that dedicated fans look forward to year after year. Each team typically has a few weeks that are open to the public when they can go sit and watch their players take the field in summer practices. For Steelers fans, it's one of the best times of the year.
Thousands of people travel to Labrobe every year to watch their favorite players take the field, scout out the new draft choices, and maybe snag an autograph after the game. For me, training camp is a time for me to study players and get a first-hand look at them for the upcoming season.
Unfortunately, fans won't have the privilege of attending this year. According to an NFL mandate from commissioner Roger Goodell, all teams will hold training camps at their own facilities this year. Here's some of what Goodell had to say, according to NFL.com's Nick Shook:
""We believe that each of these steps will enhance our ability to protect the health and safety of players and your football staffs and are consistent with a sound approach to risk management in the current environment.The NFLPA was strongly in favor of these two decisions, which were made to limit exposure risks by avoiding the need for clubs to clean and maintain two facilities, by limiting the need for players and club staffs to travel to another location (sometimes located at a considerable distance from the home facility), and by limiting travel and contact between players on different clubs in the context of joint practices. These steps are being taken for the 2020 preseason to address the current conditions and are not expected to be in place in 2021.""
Because of the Coronavirus pandemic, Goodell and NFL teams are trying to limit their exposure to outsiders as much as possible. Though there are still 90 players and dozens of staff members who will be coming into contact with each other on a daily basis, it's far less than the thousands of fans who would be visiting these teams.
While these measures may be necessary, I'd be lying if I said I wasn't disappointed. Having Steelers training camp at Saint Vincent College in Latrobe has become tradition, and it's something I have taken part in for seven straight years. It's one of the few places where thousands of fans from the same team can join together in the excitement of preparing for another year.
Though you won't get to lounge on the hillside at St. Vincent College or meet your favorite players face-to-face this year, we can take comfort in knowing that the NFL sesaon is scheduled to go on as planned. As always, I'll still do my best to keep you updated with all things Steelers training camp this summer.