Two teams have reportedly discussed signing Antonio Brown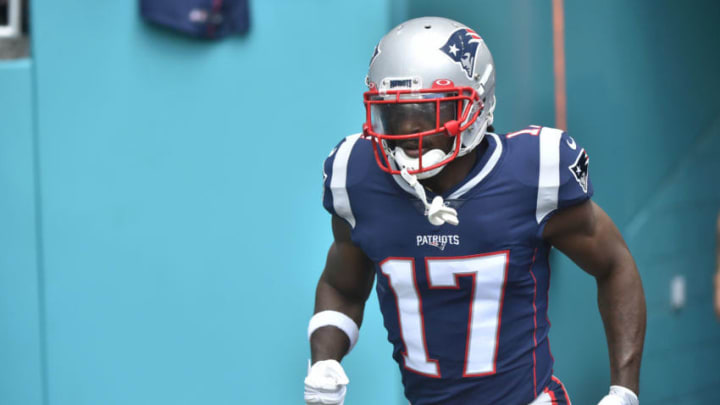 (Photo by Eric Espada/Getty Images) Antonio Brown /
The former Pittsburgh Steelers receiver reportedly has interest from an AFC North rival.
If Antonio Brown is ever going to return to the NFL again, it seems extremely unlikely that it will be in a Pittsburgh Steelers uniform. However, Brown could still end up back in the AFC North.
After appearing in just one game last season and getting himself involved in a bunch of off-the-field drama during the past year, the veteran receiver still has hopes of returning to the league in the near future.
No matter where he lands though, Brown could be handed a suspension from the NFL due to some of the off-the-field incidents he found himself in the middle of during the last year.
Two teams have reportedly discussed signing the former Pittsburgh Steelers receiver.
Throughout the current offseason, there have been rumors here and there of a bunch of teams potentially having interest in signing Brown this year. However, the Baltimore Ravens and Seattle Seahawks are two of the teams that have come up the most in these discussions.
This is mainly due to some of the recent comments made by their starting quarterbacks. Both Lamar Jackson and Russell Wilson have expressed a desire to play with Brown during the last year.
On Tuesday, it was revealed that the Ravens and Seahawks have both had discussions about the possibility of signing the former Pittsburgh wide receiver according to NFL Media's Michael Silver.
This shouldn't come as much of a surprise since each team has prominent members of their roster who have said they would enjoy being a teammate of Brown's one day. Baltimore and Seattle are also organizations that have consistently shown a willingness to give troubled players another chance if they feel the risk isn't too high.
Could Brown be the next guy to be given another shot from one of these two teams? Or will they wait it out like the rest of the league and see if he's handed a suspension before the start of the upcoming season?