Steelers camp battles: Devlin Hodges vs Paxton Lynch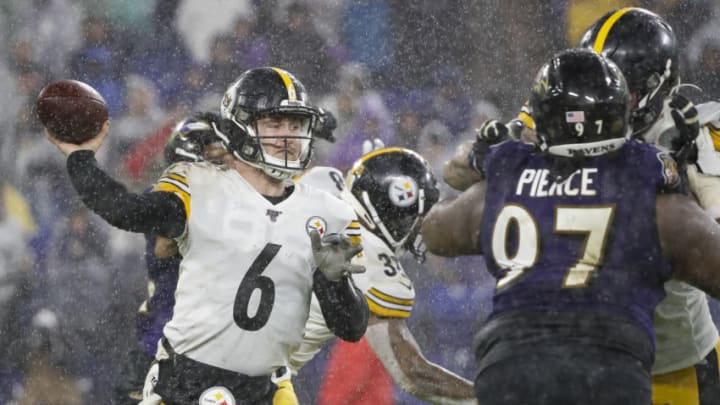 Devlin Hodges Pittsburgh Steelers (Photo by Scott Taetsch/Getty Images) /
The Steelers are currently in training camp and will be looking at who will be the third quarterback. Here's why it will come down to Paxton Lynch versus Devlin Hodges.
The Steelers need to be thinking about who will be their number three quarterback in 2020. They will most likely keep three as they always do, the question is whether they will keep the third on the roster or the practice squad. There is also a possibility that they keep a fourth on the practice squad because of this year's expanded practice squad. If that happens, there is still a question of who will be the next man up after Mason Rudolph?
The benefit of Devlin Hodges is that he still has room to improve. He didn't perform great last year but did do enough to win games. He also was a rookie who came from a small school and had to make a big jump to the Pros. If the Steelers were to carry Hodges, he would have to show improvement from year one to year two in the NFL. The good news for Hodges is that it is very common to see players improve in their first NFL offseason. Take Mason Rudolph for example.
There is also the option of using Paxton Lynch as the number three quarterback. He does have starting experience despite being a bust as a first-round draft pick. The Steelers do have a history of redeeming first-round busts like Tyson Alualu and Darius Heyward-Bey. Lynch has gotten praise from Steelers coaches and has previous starting experience in the NFL. His size could be an asset on the scout team to prepare for quarterbacks like Cam Newton. With the lack of production from Hodges in 2019, Lynch could be the next man up after Mason Rudolph.
There is also a third scenario which I like the best. Both quarterbacks have some potential and are positive influences on the team. If the team can carry 16 players on the practice squad, why not carry both of them on the practice squad. Then you could make them compete throughout practice into the season for the job behind Mason Rudolph.
I don't think either will be poached off the Steelers practice squad and it can give them plenty of options at quarterback if we have a repeat at quarterback of the problems of 2019. They could also keep one of them quarantined and away from the team in case there is a coronavirus outbreak in the locker room.
The benefit of having injuries at quarterback in 2019 is that you have a quarterback room in 2020 with plenty of starting experience which is a luxury that most teams do not have. Although we may not be able to see and hear about the day to day battle between the two, I think it will be a good battle and I still believe it is up in the air who will be the next man up behind Mason Rudolph.