Steelers post-game injury report after Week 1 win vs. Giants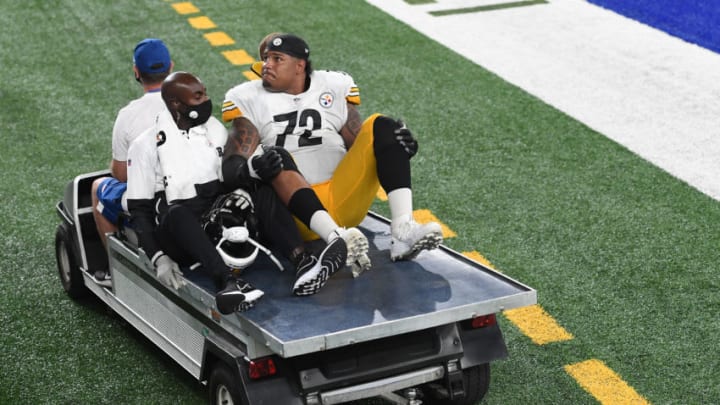 Zach Banner #72 of the Pittsburgh Steelers (Photo by Sarah Stier/Getty Images) /
Although NFL kickoff was a success for the Pittsburgh Steelers as they rattled the New York Giants, 26-16, their injuries pose a lasting threat.
The rust was evident, but as the game carried on, the Pittsburgh Steelers settled in against the New York Giants to take the Week 1 victory, 26-16. A lackluster performance, to begin with, exposing all the effects of a shortened offseason, the Steelers were able to pick their tempo up offensively and responded with 23 unanswered.
Sealing out the victory nonetheless, the worst of it all came as three offensive starters for Pittsburgh fell to injury. Already hindered upfront, the front office is now faced with some troubling questions that need immediate answers.
Steelers pair of OL leave with significant injuries
Coming into the game without David DeCastro at guard, the Steelers offensive line was already faced with a challenging task as it featured two new faces in Stefen Wisniewski at right guard and Zach Banner at right tackle.
Attempting to revamp the right side and maintain what they could by what they had, the night was not the prettiest play for both names and got even worse.
Late in the fourth quarter, Wisniewski left the field after an eight-yard gain by RB Benny Snell, being ruled out moments later to what reports believe to be a torn pectoral muscle. Then a play later, an offseason favorite, Banner, winced off the field in pain – unable to put essentially any pressure on his right leg after falling without contact when kicking back on a pass set.
This was devastating to see after fishing for veteran talent through free agency that could ease these issues, and the tears that flowed down from the relentless amount of work to be torn away from the other, the Steelers are in a dire situation with their offensive line. Both likely to be out for an extended amount of time, if not the season, their replacements should be as rookie Kevin Dotson to RG and Chukwuma Okorafor to RT.
The Steelers also lost starting RB James Conner early in the night after having an ankle injury that will be evaluated as well. However, Snell looks every part of taking over the helm of the backfield with his first 100 rushing yard game of his career on the night.