NFL Week 2 Power Rankings: Steelers rise to the 7th spot in the league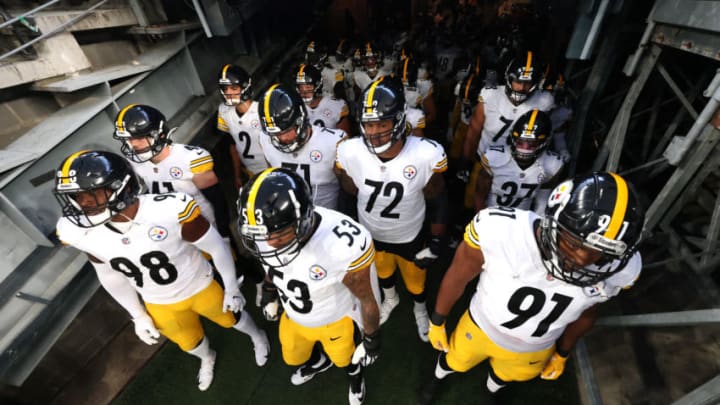 Pittsburgh Steelers (Photo by Al Bello/Getty Images) /
There were many mixed emotions on social media regarding the Steelers spot in opening power rankings. Many people, like me, tempered expectations in light of Ben's return. Tearing three ligaments off the bone could make anyone wary of a quarterbacks return.
The Steelers open up the season ranked number 12 on NFL.com's power rankings in an article written by Dan Hanzus. It is a no-brainer that the Steelers have a stacked roster on paper. Having guys like TJ Watt, Minkah Fitzpatrick, and Cam Heyward leading the way, the 12th spot was a good fit.
This seemed like a fair opening rank with so many question marks surrounding star quarterback Ben Roethlisberger. The article on NFL.com references the team saying Ben was making all the throws in camp that you would like to see form him.
Hanzus also touches on the absence of a capable replacement in case Ben gets hurt again. This concern for the backup position isn't going anywhere. The Steelers will be sticking with the same guys who know the system and don't have that learning gap.
Steelers move up to #7 after Monday night win
After getting off to a slow start Monday night, the Steelers were able to pull out a 26-16 victory in MetLife stadium. NFL.com's Dan Hanzus released his new power rankings Tuesday morning. I expected a jump in rank but truly 7th was a surprise.
Everything went right for the Steelers once they settled in as a team. Hanzus notes that Ben shook off his rust for 3 touchdowns and no turnovers. Keeping the turnovers down was the most encouraging stat of the night. In recent years, it was nothing to see Ben throw two or three picks in a game.
The swarming defense that held Saquon Barkley to just six yards was another reason for the big jump. The secondary played well but was getting its signals crossed on the two touchdowns to Darius Slayton. That will likely improve as the season pushes on.
Where the Steelers should have ranked?
The number 7 spot was definitely something to be excited about but jumping 5 spots felt like too much. The Steelers showed what they are capable of when they play a balanced style on offense. However, the offense was not facing an elite group on defense and still took time to get moving.
There are injuries across the offensive line that are going to have to be addressed as well. These injuries are going to negatively affect the run game when a formidable opponent such as Titans or Ravens come to town.
Don't get me wrong here, I believe the Steelers are top 10 worthy but seeing the Seahawks sitting behind them at number 8 was mind-boggling. The Seahawks have arguably the best quarterback in the NFL under center. Russell Wilson has been playing at an MVP level for several years and Ben has been missing the playoffs or been hurt. He had that big year in 2018 but MVPs don't come from 9-6-1 teams who had to throw the ball 50 times a game to stay in it every week. I have a tough time believing the Steelers could beat Seattle if they had to play this week.
If the Seahawks and Steelers flip-flopped positions at numbers 7 and 8 this would be spot on for me. The Steelers are looking like a real AFC contender its just time to see if they can string together multiple wins and be consistent.