Steelers injury report: Banner on IR, 7 others questionable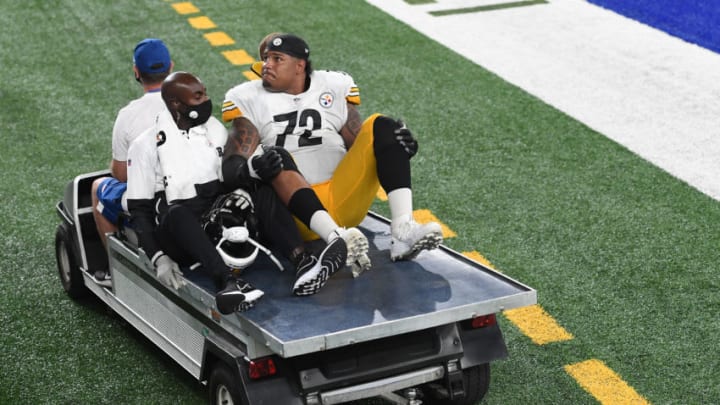 Zach Banner #72 of the Pittsburgh Steelers (Photo by Sarah Stier/Getty Images) /
The Steelers remain fairly healthy as they head into their Week 2 matchup against the Broncos. Here are the players on Pittsburgh's injury report.
The Steelers were one of the healthiest teams this offseason, but they ran into a string of bad luck during their first game of the 2020 season. While most of the team remains in good shape, there were a few key injuries in Week 1 and several more to keep an eye on moving forward.
Zach Banner OT: Out for season (torn ACL)
Zach Banner tore his ACL in Monday nights game. As a result, the Steelers placed him on the injured reserve; he is out for the season. Injured reserved is not the thing fans want to hear, especially with injuries to DeCastro and his back up Stefen Wisniewski.
That said, the Steelers signed Jerald Hawkins off the Houston Texan practice squad. Hawkins is a former Steelers fourth-round pick from 2016. The Steelers traded him to Tampa Bay in 2019 for a conditional 7th round draft pick. Hawkins then signed with Houston in August of 2020.
DE Stephon Tuitt: Questionable (Achilles Tendon)
Stephon Tuitt did not practice on Wednesday due to issues with his Achilles tendon. He is listed as questionable, more than likely, the Steelers do not want to take any chances and held him out of practice. He might yet play on Sunday. We will know by game time.
WR Dionte Johnson: Questionable (toe)
Dionte Johnson suffered a toe injury. It seems highly unlikely he will miss this Sunday's game with the Broncos, yet it's hard to say how bad the damage to the toe is this early in the week. Possibly another situation of the Steelers practicing caution. Fans should know more about the injury prognosis later in the week.
WR JuJu Smith-Schuster: Questionable (knee)
The Steelers listed JuJu on the injury roster to a knee injury and held him out of practice Wednesday. If he had an issue with his knee on Monday, no one could tell. It seems highly unlikely they hold JuJu out against the Broncos; however, no one wants to make assumptions.
There should be further updates later this week unless he returns to practice Thursday and Friday, which would indicate he will play against the Broncos.
OG Stefen Wisniewski: Questionable (pectoral)
Stefen Wisniewski's injury hurts the Steelers harder than most other injuries. With DeCastro already out and then the Injury to Banner accompanied by Villanueva missing practice this week, the Steelers offensive line is in dire straits. At this point, the Steelers may be wanting to make sure his pectoral muscle heals sufficiently.
As of Wednesday afternoon, the Steelers have not indicated if the injury is just a strain or something more serious like a tear. While a return against the Broncos is possible, nothing is certain as of yet.
OG David Decastro: Questionable (knee)
The best injury news seems to be DeCastro has been upgraded to questionable. Some rumors are swirling he may return to practice this week; fans will have to wait and see. If he misses this Sunday's game, it seems he may be back by week three. No doubt, he has recovered for the upgrade in injury status. DeCastro returning would be great for an injury-plagued offensive line.
OT Alejandro Villanueva: Questionable (illness)
A shock awaited fans as Alejandro Villanueva appeared on the injury report on Wednesday. In his case, the Steelers have listed an illness. While one could easily assume it may be COVID, there has been no official word indicating that. More than likely, it is something else entirely, and the Steelers just held him out practice as a precaution.
It seems at worst; he could miss a week at most. Still, with injuries mounting on the offensive line, this does not help. Barring further word that the illness is something severe, fans could expect Villanueva to suit up Sunday.
RB James Conner: Questionable (ankle)
James Conner has now suffered his third injury in as many years that could lead to missed games. Pulled out of Monday night's game with an ankle sprain Benny Snell took over the running game. With Snell rushing for over a hundred yards, Conners's absence did not affect the Steelers much. While likely Conner could return to action against the Broncos, that depends on how bad the ankle is. It also depends on whether the Steelers promote Snell to the number one running back on the depth chart.
Keep an eye on out to see which players are able to hit the practice field on Friday, as they may determine who will be available for Pittsburgh's home game in Week 2. Here is a brief look at the Denver Broncos injury report. For a full injury report and to see which Broncos could be missing the game, check out this link.