Steelers and Broncos injury reports after Wednesday's practice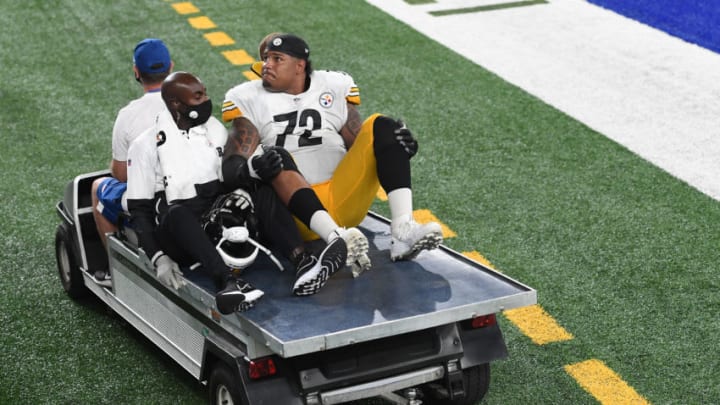 Zach Banner #72 of the Pittsburgh Steelers (Photo by Sarah Stier/Getty Images) /
The Steelers had a promising win against the Giants on Monday Night but come back in week two looking beat up.
The Steelers have a lot of players who missed practice Wednesday. I do want to caution that some players might have been held out just as a precaution. There are a lot of bumps and bruises coming into week two before the Broncos game.
Zach Banner looks to be done for the year. His season-ending surgery will be Friday for a torn ACL. Banner will get another shot with the Steelers after winning the right tackle job in camp after the 2020 season.
David DeCastro has to be healing a bit more although it is kind of uncertain when he will be back. The Steelers would love to get him back with Wisniewski injured and Dotson only being a rookie.
Some surprises on the injury report are Alejandro Villanueva, JuJu Smith-Schuster, and Stephon Tuitt. I hope Tuitt hasn't reaggravated an Achilles injury from the past.
Some veterans were given a day off and they were Ben Roethlisberger and Maurkice Pouncey.
David DeCastro (Knee) Questionable
DeCastro is questionable as we don't know where he is in his recovery from his knee injury. It looks like since he is not on IR that he could be back in the next couple of weeks. He still hasn't been ruled out for the Broncos game yet. He did sit out of Wednesday's practice.
Kevin Dotson is the favorite to start at right guard on Sunday as Wisniewski and DeCastro are both battling injuries. Dotson is a promising rookie who played guard in college at Louisiana.
Stefan Wisniewski (Chest) Questionable
Wisniewski has a peck injury which oftentimes can end a player's season. The latest reports suggest that it's not that serious but it looks like he won't go this week. It would be nice to have him available because he could play right guard and is capable of playing center. As I said before, it is looking like Dotson will get his first start at right guard.