5 reasons the Pittsburgh Steelers are going to win against the Denver Broncos in their week 2 match up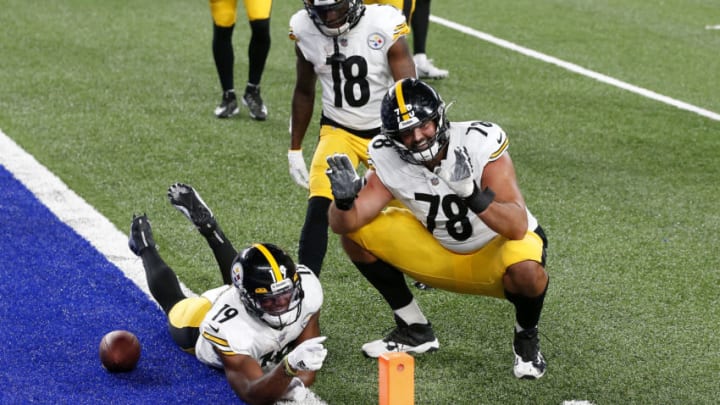 JuJu Smith-Schuster #19, Alejandro Villanueva #78, and Diontae Johnson #18 of the Pittsburgh Steelers (Photo by Jim McIsaac/Getty Images) /
The Pittsburgh Steelers play their home opener against the Denver Broncos. While Pittsburgh is 1-0 and looking to build on a solid start, Denver is 0-1 looking to get on track early in the season.
On paper, the Pittsburgh Steelers and Denver Broncos are a lot closer in talent than one might think. Breaking down the position groups Pittsburgh has the edge at quarterback, offensive line when healthy, and just barely tight end. The secondaries when both teams are healthy are fairly even on talent level, and if Von Miller was healthy I'd dare say that Denver has a very similar front 7 to Pittsburgh.
Things get tricky when looking at the WR groups of both squads, as Ju Ju is definitely the best out of all options. Denver has just as much, if not more, young talent past the #1 WR spot as Pittsburgh when considering the likes of Jerry Jeudy, Dasean Hamilton, KJ Hamler, and Tim Patrick. Denver definitely has the edge in the running back room, even if Philip Lindsay isn't healthy the 1-2 punch of Melvin Gordon and Royce Freeman could still be a tall order.
At tight end, Noah Fant is the best talent out of both groups but neither Jake Butt nor Nick Vannett has proven to be consistent in the passing game. Eric Ebron may be just as talented as Fant but has yet to show it other than his 2018 Pro Bowl campaign. Vance Macdonald is definitely more talented than Vannett and Butt while healthy. At the QB spot, Ben is obviously a better passer at this point in his career than Drew Lock. Lock however is a bit more mobile. While both QB's have their strengths they are going to be pressured a lot.
Comparing these front sevens is interesting. Von Miller when healthy, and TJ Watt are both defensive player of the year type players. Alexander Johnson as of now has the edge over Devin Bush, even though they are both talented. Vince Williams and Josey Jewell, while both are built completely different, have their strengths and weakness, and show the ability to be key cogs depending on the game plan. Bradley Chubb is still returning from an ACL injury, but he is a better pass rusher than Bud Dupree. Yet, Bud is better at defending the run than Chubb.
Even the defensive lines can be compared closely as Shelby Harris and Stephon Tuitt are both trending upwards towards elite. Cam Heyward and Jurrell Casey have incredibly similar stats over their equally long careers. Mike Purcell and Tyson Alualu both showed prowess against the run game in week 1 against a talented pair of running backs, being Saquon Barkley and Derrick Henry.
This game is probably going to be closer than Pittsburgh's week 1 matchup. Let's look at why they'll pull out the win.