The dangers of the Pittsburgh Steelers 2021 schedule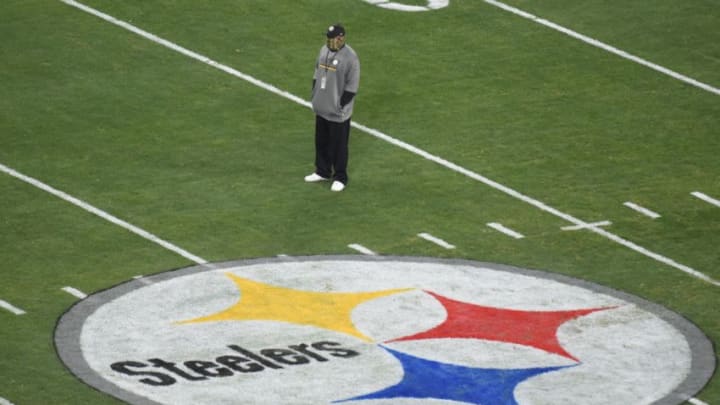 Pittsburgh Steelers head coach Mike Tomlin . Mandatory Credit: Philip G. Pavely-USA TODAY Sports /
Fresh off the release of the 2021 NFL schedule, the Pittsburgh Steelers face a gauntlet of opponents and will have to overcome their greatest feats on the road. 
In the world of sports, it seems no matter the argument or conversation; a comparison has to be made.  Whether they are well-supported or ill-advised, these comparisons expose someone's fandom or hatred. When it comes to the NFL, we start from the draft and its prospects, literally projecting "who is [insert college player's] NFL comparison" and move onto the annual schedule release, determining who has the most challenging schedule based on their upcoming opponent's past-season record. For the 2021 Pittsburgh Steelers, they are graciously rank first as having the toughest schedule in the league.
The 2020 Steelers were just a significant bump in the road from potentially becoming the first NFL organization to finish with a 20-0 record, this year's Steelers will have their work cut out for them. Indeed, the sport itself is a year-to-year collection of exhibitions with a smidge of promise that repetition will occur for each team. Hopefully, for those dressed in Black and Gold, they can outdo the dreadful ending of last season, with a bulk of its challenge being on the road.
The Steelers have to become road warriors in 2021
About four months out from kickoff week, the Steelers start with one of the more intriguing matchups taking on the vaunted Buffalo Bills. This will be the third consecutive season in which Steelers and Bills face-off, Buffalo has taken the previous two games by an average margin of nine points. Led by QB Josh Allen, they have grown significantly as a legit contender in the AFC and could potentially return its fanbase to their stadium known for its unique WWE attitude-era style of support.
Along with facing the strong Bills team in opening week, the Steelers schedule also debuts a quality list of teams that the Steelers will have to face on the road, at stadiums packed with fans filling in a void of emotion and adrenaline for the first time in over a year.
Steelers 2021 Away Schedule
Week 1 – PIT @ Buffalo Bills
Week 4 – PIT @ Green Bay Packers
Week 8 – PIT @ Cleveland Browns
Week 11 – PIT @ Los Angeles Chargers
Week 12 – PIT @ Cincinnati Bengals
Week 14 – PIT @ Minnesota Vikings
Week 16 – PIT @ Kansas City Chiefs
Week 18 – PIT @ Baltimore Ravens
Knowingly, the split of their AFC North rivals makes three of these eight away games. Cincinnati occurs in the only back-to-back road trip on the season and the Ravens amid a three-week span that features the Chiefs in Kansas City and the Browns at home. Also, playing at landmarks such as the NFL's version of WWE, Lambeau Field, the stadium seemingly housing 80% of their opponent's fans, the Skol chant, and decibel-breaking Arrowhead, Pittsburgh is set for battles.
Three of those organizations won at least 13 games in 2020 (BUF, GB, KC) and have shown no signs of getting any worse, as the Chargers and Vikings are trending upwards right behind them. Unless, of course, Packers GM Brian Gutekunst pushes the red button to set off a trade for QB Aaron Rodgers and the tears of GB fans everywhere. However, weeks 12-14 signify the Steelers' three games in a ten-day affair, with two on the road as listed above.
In retrospect, a bit of grace was given to Pittsburgh in that they will match up against the Seattle Seahawks and its 12th Man and then the Mile-High Denver Broncos at Heinz Field. Thankfully, their bye will follow closely in week seven. Two essential questions should be ready to be answered at this point. Who are the Steelers as a team in 2021, and can they move forward successfully with that identity?
Come week ten, a time that last year attributes to Pittsburgh's fallout and its three losses on the road in 2020, can they redeem themselves? Besides the seasoned leader at QB, the youth of this roster will be severely tested and end for a make-or-break run at the playoffs.