Steelers final 53-man roster projection before training camp starts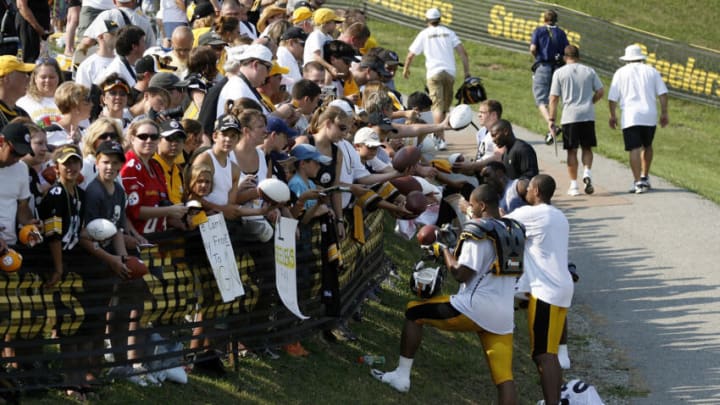 Pittsburgh Steelers sign autographs after practice during training camp at St. Vincent College on July 28, 2008 in Latrobe, Pennsylvania. (Photo by Gregory Shamus/Getty Images) /
A general view of Heinz Field prior to the AFC Wild Card Playoff game. (Photo by Joe Sargent/Getty Images) /
The Pittsburgh Steelers will be looking for players to make a name for themselves as training camp becomes closer.
Training camp is always an exciting time for Steelers Nation as football is back in the world. Unfortunately, the team was not permitted a return to Saint Vincent College in Latrobe, so they will be going back to Heinz field instead. This was a letdown to many fans that enjoy the Latrobe experience.
It will also be another year that Latrobe will struggle financially as they count on the revenue they get from the crowds training camp brings. The good news from this is some practices will be open to fans for free as long as they go and get free tickets online. Not every practice will be open to the fans so go and check before you make the plan to see the black and gold practice in person. Plan before you decide what day you are going and enjoy the time watching football in person.
This roster will be an interesting one to watch unfold throughout the pre-season process. The team starts their pre-season schedule with the Hall of Fame Game, which is an extra week before every other team starts their matchups. Players fighting for a roster spot are going to need to impress these coaches to make the team out of camp.
Many players are inexperienced and young so there are many different spots up for grabs this time around. Since all of the turnovers this past offseason, many holes need to be filled before the regular season games begin and this training camp will help set that tone. This completely new team will try to find their answers internally first before they might have to look at outside options to improve the squad.