Steelers 53-man roster prediction before 2021 training camp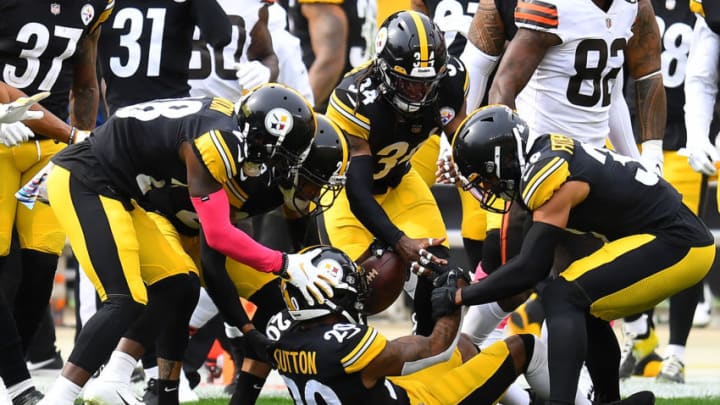 Cameron Sutton #20 of the Pittsburgh Steelers . (Photo by Joe Sargent/Getty Images) /
Kent State Golden Flashes wide receiver Isaiah McKoy (23) Mandatory Credit: Tim Heitman-USA TODAY Sports /
Steelers Practice Squad (12)
Josh Dobbs, Trey Edmunds, Isaiah McKoy, Anthony Johnson, Kevin Radar, Jarron Jones, J.C. Hassenauer, Abdullah Anderson, Jamar Watson, Tegray Scales, Mark Gilbert, Donovan Stiner
Predicting a practice squad right now is nearly impossible. There is little word as to what the rules will be and how many players will be allowed on the squads given the decline in COVID cases, so assuming they go back to what was designated by the league, 12 men will make up the squad. That number could certainly change, but until further confirmation, this is the prediction.
Dobbs serves as an additional arm as well as a Jackson clone. McKoy is a sleeper of mine, but I think the practice squad makes sense for him during his rookie year. Two additional linemen are kept for giving the Steelers as many linemen as possible to figure this unit out. You could sub in most of the current names on the depth chart though here. Trey Edmunds is a filler name at this point, as I would expect the team to sign a more capable runner to the practice squad.
Like the potential both Gilbert and Donovan Stiner have, so I think the team tries to develop both on the practice squad in year one. Gilbert could compete for an outside corner role next season and Stiner could throw his name into the strong safety group as well. Once again, this is a bold guess at this point, as the practice squad will see players both from the Steelers cam as well as other teams' camps when it is all said and done.
With training camp right around the corner, the vast majority of the roster is set. There is still a bit to figure out in terms of who will start or not, but it shouldn't impact a lot of the players actually making the final roster. That all said, expect some fierce fighting for the final few roster spots as players fight for their NFL careers to continue.