Steelers oddball victory: John Henry Johnson's huge game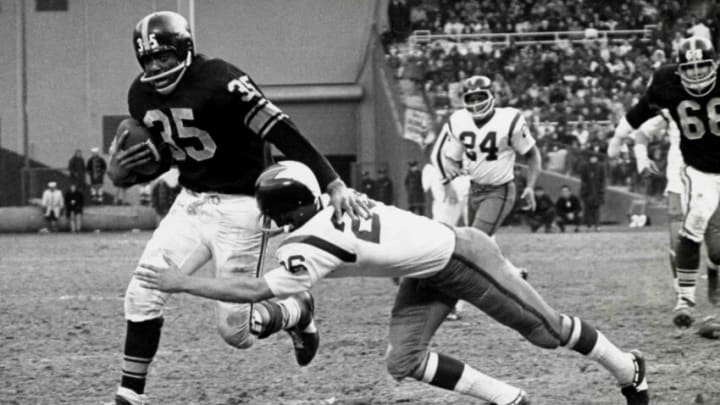 Hall of Fame halfback John Henry Johnson of the Pittsburgh Steelers runs upfield as fellow hall of famer Paul Krause attempts to tackle in a 14 to 7 win over the Washington Redskins on December 6, 1964 at D. C. Stadium in Washington DC. (Photo by Nate Fine/Getty Images) *** Local Caption *** /
With Pittsburgh's last pre-season game against Philadelphia, it might be fun to look at another oddball Steelers victory over the Eagles from 1960.
What makes this game on October 10th, 1960, so memorable?  It marks the only game in Pittsburgh's history in which a running back had the highest single-game rushing total while also throwing one touchdown pass as well. He had 182 rushing yards, the 9th highest single-game total in Steelers history, and passed for one touchdown.
Who Managed this feat? None other than Hall of Fame running back John Henry Johnson.  More importantly, the touchdown pass marked the margin of victory for the Steelers as the Eagles came close to scoring 28 unanswered points in the 2nd half.
In the First quarter, Bobby Layne led Pittsburgh to a 13-0 lead scoring three touchdowns and one touchdown a 7-yard pass reception to Johnson. Then in the second quarter, Johnson put up nearly half of his rushing yards on one play. He ripped off an 87-yard rush and scored a touchdown. The score put the Steelers up 20-0. Then in the final score of the 2nd quarter, John Henry Johnson hit Buddy Dial on a 15-yard touchdown strike. They ended the 2nd quarter with a 27-0 lead.
It was all Eagles in the second half as the Eagles held Pittsburgh scoreless while Sonny Jurgensen led the Eagles on three scoring drives in the 4th quarter; however they fell short by 6 points.  Thus Johnson's touchdown pass was the pivotal play of the game for the Steelers.
All total, the Steelers had 275 rushing yards surpassing Bobby Layne's 209 passing yards. The game featured four Hall of Fame players Norm Van Brocklin and Sonny Jurgenson for the Eagles and Bobby Layne with John Henry Johnson for the Steelers.
In an even odder stat from the game, Bobby Layne pulled double duty as the field goal kicker. The next to last game, a Steelers quarterback, would ever do so in franchise history.  For the Eagles, Norm Van Brocklin also handled all the punting duties.
This game serves as a reminder that even though Pittsburgh didn't have great win-loss records before 1970's they did play some memorable classic games, and this is undoubtedly one of them.