3 impressive Steelers performances against the Chargers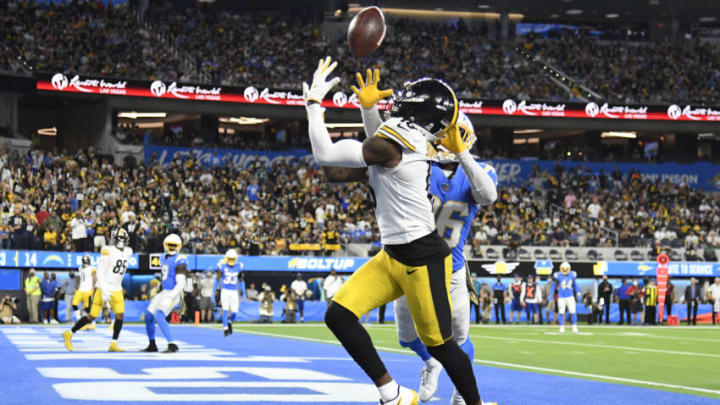 INGLEWOOD, CALIFORNIA - NOVEMBER 21: Diontae Johnson #18 of the Pittsburgh Steelers catches the ball for a touchdown as Asante Samuel Jr. #26 of the Los Angeles Chargers defends in the second quarter in the game at SoFi Stadium on November 21, 2021 in Inglewood, California. (Photo by Kevork Djansezian/Getty Images) /
Pittsburgh Steelers Ben Roethlisberger Mandatory Credit: Jayne Kamin-Oncea-USA TODAY Sports /
The Steelers had a lot of issues with players and their performances, but there were a few that tried their best and made the comeback almost happen, here are the three players who impressed.
The Steelers almost pulled off a crazy comeback against the Chargers on Sunday night. The Steelers scored 27 points in the 4th quarter alone and were given a chance at the end of the game but failed pretty badly.
There were some players that you could not blame the loss on and who were impactful in the almost comeback. These three players led the Steelers and made fans forget multiple star players did not play.
Steelers QB Ben Roethlisberger
Despite not practicing all week because of Covid-19, Big Ben Roethlisberger put together a game that renewed faith in his play. Ben tossed 273 yards and 3 touchdowns while going 28/44. Roethlisberger started to call his own plays near the end of the game and it led to a Pat Frieiermuth touchdown which tied the game and installed some rhythm into the offense.
Roethlisberger also threw some long passes that were caught but they were somewhat underthrown. He did showcase the limited arm talent he has left and threw some tight passes to Diontae Johnson that ended up with a touchdown and a 15+ yard play.
Ben was also surprisingly mobile in the pocket and could step into his throws as well as avoid the oncoming traffic, sadly there was too much traffic at the end of the game and he could avoid no more. When Roethlisberger calls his own plays the offense can move the ball without many issues and he looks comfortable and confident when throwing. The Steelers need to allow him to do that more often because he was getting visibly frustrated with the play calls he was given. He did play well and surely silenced the crowd of Ben haters that have been calling for Mason Rudolph to start.