Steelers fans vote on which 2022 NFL Draft QB they would like to have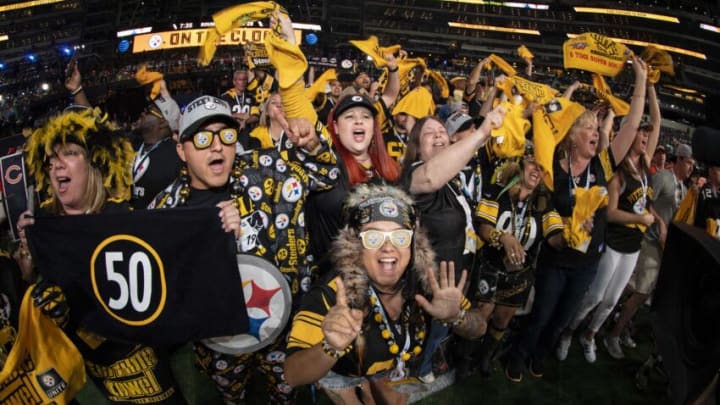 Pittsburgh Steelers fans celebrate during the 2018 NFL Draft. Mandatory Credit: Jerome Miron-USA TODAY Sports /
Steelers fans recently weighed in with their opinion on which quarterback they would like Pittsburgh to select in the 2022 NFL Draft this April. 
It's the end of an era in Pittsburgh. For the past several years, Steelers fans have wondered if the team would try to draft a quarterback that they could groom who could eventually take over for Ben Roethlisberger. In 2020, NFL Draft analysts speculated that the team had their eye on Oklahoma's Jalen Hurts, but Kevin Colbert passed on him in round two.
Now it seems more likely than ever that the Steelers are going to seriously consider taking a quarterback in the 2022 NFL Draft. While this isn't exactly a great QB class, the need is clearly there for Pittsburgh. Fans who are opposed to this must come to grips with that possibility.
Early in the NFL Draft process, there doesn't seem to be a consensus number one quarterback this year. While many expect this to be Kenny Pickett, a lot could change over the next few months, and there are several options who could emerge as the top QB selected in April.
Recently, I took a poll on Twitter and asked Steelers fans to vote on which QB they would want to see in Pittsburgh from the 2022 NFL Draft. Pickett won by a landslide:
In addition to Pickett, I listed Ole Miss' Matt Corral, UNC's Sam Howell, and Cincinnati's Desmond Ridder as the options in the poll. Several commented on this tweet — saying that Liberty QB Malik Willis would be their choice — but certainly not enough to leave a dent.
Out of 325 voters, Pickett was clearly the overwhelming favorite. But is he a possibility, and would the Steelers consider taking him in the first round?
Could Pickett be the Steelers QB in 2022?
Though Kenny Pickett might be the quarterback that most Steelers fans are pulling for this year, is he one that they will consider? There are several variables that come into play (the first obviously being that the team is sold on taking a QB in April).
After this, Pittsburgh would need to have enough interest in Kenny Pickett to trade up for him in the 2022 NFL Draft. Personally, I'm not sure if this is something the organization will be willing to do. If Pickett does indeed end up being the first quarterback off the board this April, it's highly unlikely that he lasts until the 20th overall pick (where the Steelers are selecting). A trade-up seems like it would have to happen for Pittsburgh to get him.
In addition, there's reason to believe that the Steelers might be higher on some of the other quarterbacks in this class, if they decide to go this route. Though Pickett has played at Heinz Field for Pitt over the past five years and had a very productive season in 2021, Mike Tomlin historically likes younger, underclassmen in the first round (with a few exceptions). Pickett also might be lacking the raw tools Tomlin is looking for, as he's just an average athlete with a modest arm.
I think Kenny Pickett is a player who certainly has to be on our radar this April, but despite the obvious fan interest and his connection with the city, I don't know if it's very likely that the Steelers wind up with the Pitt quarterback in the 2022 NFL Draft.