Steelers biggest positional weakness heading into training camp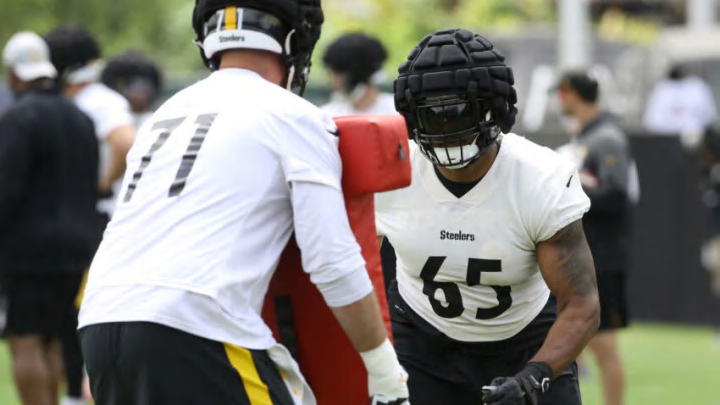 Pittsburgh Steelers offensive lineman Dan Moore Jr. (65) participates in minicamp at UPMC Rooney Sports Complex.. Mandatory Credit: Charles LeClaire-USA TODAY Sports /
The Pittsburgh Steelers are set to kick off their 2022 training camp, but their biggest weakness could prove to be a major issue this season.
Kevin Colbert made every effort to leave his team in good hands during his final offseason as the general manager of the Pittsburgh Steelers. Despite the significant roster turnover, Colbert used more salary cap space than the team has ever had to improve the depth and add starting-caliber players at numerous positions.
Sadly, there are still a few positions on the team that have been sorely neglected — none greater than the offensive tackle position. In fact, this could very well prove to be the weakest position on the roster during the 2022 season.
On paper, the Steelers have either improved or at least stayed neutral in most positions across the board. However, Colbert and his staff didn't do a thing to help improve the offensive tackle position this offseason. Essentially, the team seems content to 'run it back' with the unspectacular pairing we saw in 2021.
Steelers OTs are currently a huge weakness
Chukwuma Okorafor, the team's right tackle who didn't play particularly well in 2021, was extended during the offseason for a price that many deemed too high. Though they get a returning veteran with ample starting experience, we aren't exactly getting the best bang for our buck.
Okorafor signed a three-year, $29.25 million extension during the 2022 offseason, via Over the Cap. Though his cap number for the upcoming season is low, this skyrockets to over $13 million against the cap in 2023. If he doesn't perform well, Okorafor is a candidate to be cut as early as next offseason — though the team would be forced to eat dead money in the process.
This contract is especially disheartening considering that Okorafor is the 6th-highest-paid right tackle in the NFL — topping much more established players like Jack Conklin, La'el Collins, Trent Brown, and Rob Havenstein.
Despite his rich new deal, the results haven't been spectacular on the field. Okorafor graded out as just the 61st-best offensive tackle in the league last year, according to Pro Football Focus. He will need to grossly outperform expectations to prove that the Steelers didn't make a mistake with his contract.
Perhaps the overall most concerning position on the team is left tackle. In his first season in the NFL, Dan Moore Jr. was forced to start at left tackle, and the results were not ideal. Though Moore possesses a good build and excellent athletic traits, he was incredibly sloppy during his rookie campaign.
As a result, the former Texas A&M product fielded just a 57.5 overall grade during his rookie season — finishing 72nd among all qualifying tackles in the NFL. Considering there are only 64 starting tackles in the league, this obviously isn't a good sign.
It's not just PFF grades that suggest Moore and Okorafor didn't play well in 2021. The tape tells a very similar story. Last year, I rewatched every Steelers game at least once, and Pittsburgh's pedestrian offensive tackles stood out like a sore thumb at times.
Obviously, the Steelers front office is banking on improvement from these two young players. Despite entering his fifth season, Okorafor will be just 25 years old in 2022. Meanwhile, Moore is just 23 with fantastic upside if OL coach Pat Meyer can unlock his potential.
Regardless, this position has me more than just a little worried. I think Pittsburgh has criminally underrated the value of the offensive tackle position over the years, and it's starting to catch up with them. Let's hope Moore and Okorafor don't prove to be detrimental to the Steelers chances of competing in 2022.