Players arrive at Steelers training camp, ready to get to work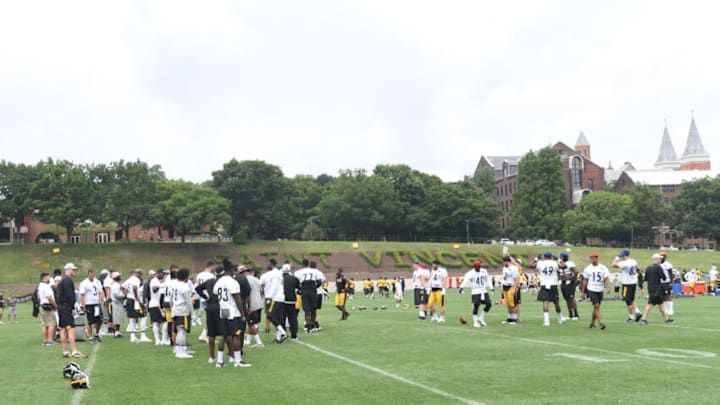 The Pittsburgh Steelers train at St. Vincent College. Mandatory Credit: Philip G. Pavely-USA TODAY Sports /
Players arrived at Pittsburgh Steelers training camp on July 26th. Here are some of the sights and sounds just before camp kicks off. 
We are back, baby! After being forced to stay home and host their training camp at Heinz Field in 2021 due to COVID-19 restrictions, the Pittsburgh Steelers are back in Latrobe, Pennsylvania at Saint Vincent College.
This is a cherished tradition that started all the way back in 1966 — four years before the NFL merger. Players, coaches, staff members and fans have all grown quite fond of Steelers training camp in Latrobe over the years, and the excitement is ramping up as we gear up for what could be one of the most exciting training camps of the past decade.
On Tuesday, July 26th, all players reported to the campus at Saint Vincent College to prepare for training camp. The first practice will start at 1:55 p.m. Eastern Time on July 27th.
The media was quick to swarm All-Pros like Cameron Heyward, T.J. Watt, and Minkah Fitzpatrick, but they also caught up with young up-and-comers like Najee Harris and Chase Claypool as well as first-round pick, Kenny Pickett.
Here are the early sights and sounds as players arrive for Pittsburgh Steelers training camp 2022, via Twitter:
To me, this is the big moment that truly makes it feel like football is back. Many fans can't wait to watch these guys take the field over the next several weeks.
Why Steelers training camp is so important
For some veterans, like T.J. Watt and Cameron Heyward, there isn't a lot of pressure when it comes to their performance at Steelers training camp. For others, this could prove to be the most important summer of their lives.
In just over a month, NFL teams will be forced to cut their rosters from 90 players down to 53. This will be done in three different stages, according to NFL Football Operations. Cutting roughly forty percent of a team's roster isn't easy and there will be some very difficult choices made. A few underdogs could prove worthy of cracking the final roster and earning a role on the Pittsburgh Steelers, while others are sent packing.
For those who just miss the cut, the Steelers could look to get them back on the practice squad. They can hold up to 16 players on the practice squad who could be called up to the active roster in the event of an injury or a player being released.
For everyone else, they will be thrown back into the free agent pool until the time comes when they can try out for another NFL team. For some players, this might be the only chance they get to make a name for themselves in the NFL.
It will be very interesting to see how things play out over the next few weeks. Performances at Steelers training camp will go a long way in determining who makes the final 53-man roster on August 30th.