Pittsburgh Steelers studs and duds in wild victory over Bengals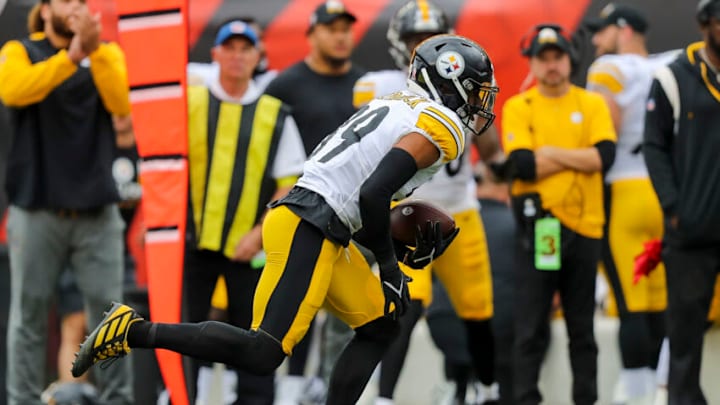 Sep 11, 2022; Cincinnati, Ohio, USA; Pittsburgh Steelers safety Minkah Fitzpatrick (39) intercepts the ball and runs it for a touchdown against the Cincinnati Bengals in the first half at Paycor Stadium. Mandatory Credit: Katie Stratman-USA TODAY Sports /
In what may be the strangest opener in recent Steelers history, many players stood out for better or worse. Here are the suds and duds for the Steelers in week 1.
The Steelers went on the road and defeated the defending AFC champion Bengals 23-20 in OT, and as expected the defense was the biggest reason why. The Steelers playmakers on defense forced five turnovers and sacked Bengals star QB Joe Burrow seven times. The offense was largely a mess, but they made just enough plays to squeak out the last-second win.
Several players and position groups made their presence felt in this game, while others nearly erased an unbelievable defensive effort. Let's start with the top performers of the game.
Steelers defenders dominate list of studs against Bengals
Steelers Minkah Fitzpatrick is worth every penny
Some players who cash in on big contracts after their rookie contracts are up don't improve or play quite as hard as they did prior to their new deals. If there were any concerns from Steelers fans that Minkah Fitzpatrick may fall into that category, I think they can relax.
Not only did Fitzpatrick lead the team in tackles, but he also intercepted Joe Burrow's first pass of the day and returned it for a score. He was all over the field making plays against the run and the pass. It may have been his best all-around game as a Steeler. That new contract could end up being a bargain if he keeps this up.
Steelers Alex Highsmith dominates Bengals O-line
Alex Highsmith was a bit of a question mark coming into week 1 after missing most of camp with a rib injury. Any concern he may need to knock some rust off though was quickly disregarded. He set a new career-high with three sacks to go along with nine tackles and a forced fumble. He routinely beat Bengals left tackle Jonah Williams and forced Burrow to scramble into the teeth of the Steelers defense. The entire defensive front played very well, but Highsmith was the guy finishing the most plays.
Steelers TJ Watt makes his impact felt despite injury
If this game ends up being the only game TJ Watt can suit up for this season, he really made it count. Watt may not have had as many sacks as Highsmith, but he single-handedly ended multiple Bengals possessions. He batted down multiple passes while also racking up three tackles for loss and a sack.
It was a typical performance for one of the NFL's best defenders. Unfortunately, all signs point to the injury he sustained being a torn pectoral muscle. Even if he is able to return late in the season, missing 3-4 months could be too much for the Steelers defense to withstand.
Steelers offensive line and running game continues to be a dud
Steelers offensive line makes life hard for skill players
If it sounds like I am repeating myself every week about the struggles of the offensive line, it's because I am. Once again the Steelers offense felt stuck in the mud due to a line that simply could not get any push up front. The only effective run plays came on jet sweeps to Chase Claypool who finished with 36 yards on six attempts.
Najee Harris and Jaylen Warren finished with a combined 13 carries for 30 yards. Some of the blame falls on the play calling and runners themselves, but it's so difficult to get anything going when the line in front of them looks like it did today.
Steelers Mitchell Trubisky struggles in debut
Mitchell Trubisky needed to really show that he could run Matt Canada's offense effectively after how well Kenny Pickett performed in the preseason. Anytime a 1st-round QB is behind you on the depth chart, it's hard not to look over your shoulder. If this game is indicative of what he can do, it may not be long before we see Pickett.
Trubisky finished with just 194 yards and averaged a measly 5.1 yards per attempt, relying heavily on quick passes and gadget plays. There was very little effort to push the ball downfield, and it seemed like it was on purpose. If he can't create some big plays for the offense, I won't be surprised if he ends up on the bench before week 5.
Steelers offensive coordinator Matt Canada fails to create a spark
There is plenty of blame to go around for the Steelers lack of offense on Sunday, but Matt Canada has to be near the top of the list. All offseason the conversation had been about whether having a younger, more dynamic QB would allow Canada to run his offense the way it's supposed to be run. If what we saw against the Bengals is what fans should expect to see this year, he hasn't given them much reason for optimism.
His inability to effectively call pass plays that travel past ten yards continues to be an issue. He loves trying to create yards after the catch for his receivers but has failed to consistently put them in a position to do so. The offensive line and QB play didn't help, but Canada needs to adjust his approach or this offense is going nowhere.