Mike Tomlin shuts down all Steelers quarterback controversy in presser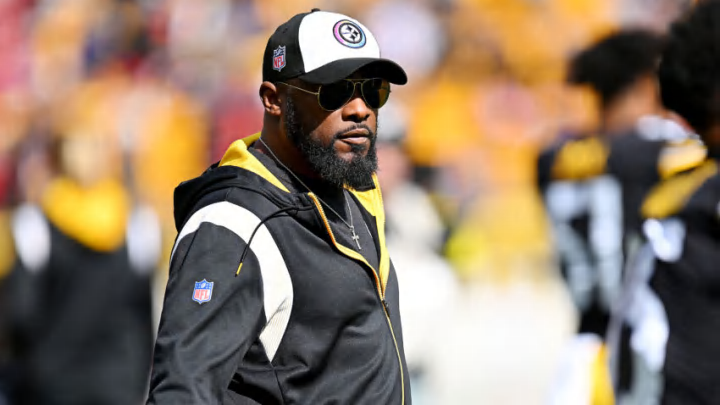 Head coach Mike Tomlin of the Pittsburgh Steelers looks on prior to the game against the Tampa Bay Buccaneers at Acrisure Stadium on October 16, 2022 in Pittsburgh, Pennsylvania. (Photo by Joe Sargent/Getty Images) /
Steelers fans were wondering if the team was going to have a QB controversy yet again, but Mike Tomlin was very quick to shut those rumors down.
This has been a bizarre start to the week. Immediately after the Pittsburgh Steelers pulled off the biggest home upset win since 2005, many fans took to social media to express why they believe that Mitch Trubisky gives this team the best chance to win and should be the starter moving forward. However, I have been urging fans not to make too big of a deal out of his excellent second-half performance against the Buccaneers.
Unsurprisingly to me, Mike Tomlin shared the exact same thoughts. During his Tuesday press conference, the Steelers head coach expanded on many topics, but he was sure to put any fraudulent 'quarterback controversy' to bed.
Tomlin made it abundantly clear that Kenny Pickett was their guy. He made the decision to turn to Pickett at halftime against the New York Jets a few weeks back, and he was sticking to it. His 'Tomlin-isms' were in full force when he expressed that he 'won't blow into the wind' or 'flip the script' on the QB situation anymore. He wants the players to know who to follow and rally around from here on out.
This comes immediately after rumors swirled about why Mitch Trubisky was benched in the first place. Over the past twenty-four hours, several sources have indicated that Tomlin's decision stemmed from a locker room altercation between Trubisky and wide receiver, Diontae Johnson. According to Ron Cook on 93.7 The Fan, the long-time columnist for the Pittsburgh Post-Gazette claimed that Trubisky exhibited 'behavior unbecoming of a captain.'
Steelers are making the right choice moving forward with Pickett
We don't know for sure if this was the case or not, but it would seem wild if this was the reason for Trubisky's benching. It seems much more likely that it had to do with his underwhelming performance. Either way, the Steelers are making the right choice by rolling with Kenny Pickett.
Nobody is denying that Trubisky didn't have a spectacular showing in the second half against Tampa Bay. In fact, I've gone on record stating that I thought it was the best half of football any Steelers QB has played this year. But this was a pretty small sample size, and we've already seen three-and-a-half bad games of Mitch before this point.
After selecting a quarterback in the first round, you need to see what you have in him. Pickett may or not be the guy, but we won't know if gets demoted back to the bench. Likewise, we already know that a six-year veteran like Trubisky isn't suddenly going to be the franchise QB the Steelers need — especially after just investing a very high pick into a rookie.
At this point, the Pittsburgh Steelers either need to sink or swim with Kenny Pickett. You may not want to hear it, but neither quarterback is winning a Super Bowl this year. They simply need to find out of Pickett has that 'it' factor and if he could be the franchise quarterback of this team in the future. This was absolutely the right move to put this QB controversy to rest.