Comical overreactions from Steelers fans after upset win over Buccaneers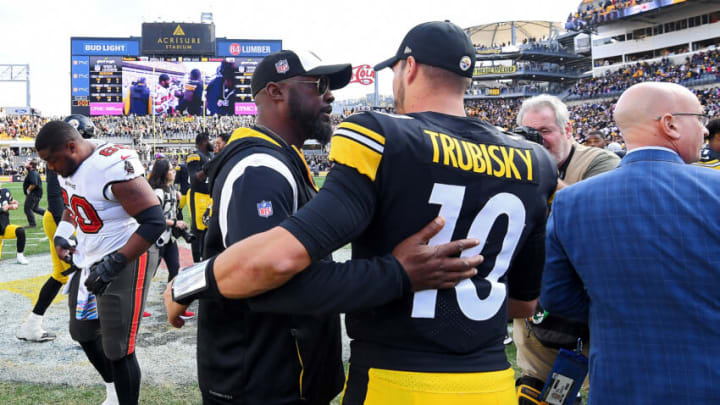 Head coach Mike Tomlin of the Pittsburgh Steelers talks with Mitch Trubisky #10 of the Pittsburgh Steelers following the game against the Tampa Bay Buccaneers at Acrisure Stadium on October 16, 2022 in Pittsburgh, Pennsylvania. (Photo by Joe Sargent/Getty Images) /
The Pittsburgh Steelers did pull off an impressive upset win over the Buccaneers, but here's here are a few things fans are grossly overreacting about.
As soon as the Pittsburgh Steelers pulled off the impressive upset win over the Tampa Bay Buccaneers, I braced myself for the brash overreactions I would witness on social media. They came right on cue. Just a day after advancing to 2-4 in the 2022 season, some fans were wild with their takes on social media.
Look, I don't want to take anything away from this Steelers win or the exceptional individual performances we witnessed, but we have to pump the brakes a little bit here. The Steelers still have a ton of work to do to prove that they can resemble anything close to a contender this year, and one good game shouldn't make us forget about everything we've witnessed in the first five showings this season. Here are the three most comical overreactions following Pittsburgh's Week 6 win against the Buccaneers:
Mitch Trubisky should be Steelers starting quarterback
I give Mitch Trubisky props for what he was able to do in the second half against the Buccaneers. Filling in for the injured Kenny Pickett, Trubisky was able to lead a few successful scoring drives and showed up big with some clutch third-down throws.
Trubisky's stat line of 9/12 for 144 yards and a touchdown was impressive, via ESPN stats. But as a result of just two successful quarters of play, many on social media believe the team should turn back to Trubisky as the starter moving forward. Are we so quick to forget about his lackluster showings in his first five starts? It was because of the offense's lack of success that he was pulled in the first place.
Obviously, we all know that Matt Canada has a major hand in limiting the upside of the offense, but Trubisky simply wasn't making enough plays or scoring enough points when he was the Steelers starting QB. He's in his sixth NFL season. There certainly is no basis for believing what we saw from him in two quarters of action will be the players we get moving forward.
Chase Claypool is a great receiver, but he has just been used incorrectly
I was thoroughly impressed by Chase Claypool's performance against the Buccaneers. Quite honestly, I think it might have been the best overall performance of his career to date. However, I'm not about to be under the impression that Claypool is this great receiver who has just been used the wrong way this whole time.
Claypool is in his third NFL season. After impressing as a rookie in 2020, he's become less consistent in catching the football and winning at the catch point the last two years. His game against the Buccaneers was an exception to what we've seen, but don't expect it to be the new normal. I still like Claypool as a WR3, but I think it would be unwise to think of him as much more than that — even after one great performance.
Mike Tomlin should be raised up on a pedestal
First of all, I do want to give Mike Tomlin credit. Despite the injuries his team was facing, he was able to rally the troops and get the Steelers fired up to play at home against the Buccaneers. He deserves some credit for the win.
However, we tend to forget about the things he didn't do well when the results ultimately favored Pittsburgh. In the first half, I thought Tomlin's clock management was as bad as ever. Instead of kneeling on the ball or playing it safe backed up on their own side of the field right before the half, Tomlin allowed the offense to run just 23 seconds off the clock and punt the ball back to Tom Brady. This was just enough time for the Hall of Fame QB to get his team in field goal range and put 3 more points on the board before heading to the tunnel.
Tomlin also had to burn a timeout on a routine field goal attempt as one of his players forgot to take the field. I love the energy that Tomlin inspired in Week 6, but these are some things that have to fall on the head coach, and he's fortunate they weren't game-altering mistakes.
I don't want to sound like I'm coming down too hard on any of these guys. I think they all deserve a big pat on the back in this one. However, I think fans need to be careful about overrating players and coaches based on one performance that was a great collective team effort.