Steelers could make playoffs in latest AFC North standings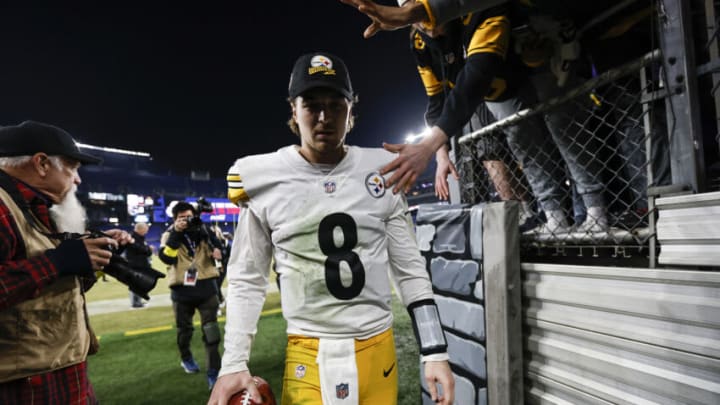 BALTIMORE, MARYLAND - JANUARY 01: Kenny Pickett #8 of the Pittsburgh Steelers heads to the locker room after defeating the Baltimore Ravens during an NFL football game between the Baltimore Ravens and the Pittsburgh Steelers at M&T Bank Stadium on January 01, 2023 in Baltimore, Maryland. (Photo by Michael Owens/Getty Images) /
Najee Harris #22 of the Pittsburgh Steelers runs with the ball during an NFL football game. (Photo by Michael Owens/Getty Images) /
Steelers could have a slim path to getting into the playoffs after week 18
Last weekend could not have played out better for the black and gold as their slight playoff chances got bigger. There is still a giant rock in the middle of the road for this team as they try and find a way past it. The first thing that needs to happen to make the post season is for the Steelers to take care of business in front of their fans at home.
After that, they will also need both the Bills to beat the Patriots and the Jets to defeat the Dolphins. Neither of those are guaranteed, but Pittsburgh is starting to get better as the season rolls on. The Steelers will play their hearts out and try to finish above their average record mark, but that will be no easy task.
Cleveland Browns (7-9) vs Pittsburgh Steelers (8-8), Sunday at 1 P.M. EST
A hated rival comes to town to try and spoil the dreams of the black and gold on Sunday. Lose and the Steelers can kiss both their playoff dreams and Tomlin's non-losing season streak goodbye. Both will be motivating factors for this group as they try and defeat the Browns in the second matchup of the season between these two.
Cleveland is not just going to roll over and accept a loss, but they are not playing good football right now. Their run defense is poor and the offense for the Browns has looked out of sync for a while. Pittsburgh is an opportunistic group right now and that could either get them into the playoffs or sitting on the couch next week.