3 things we should see from the Pittsburgh Steelers in 2023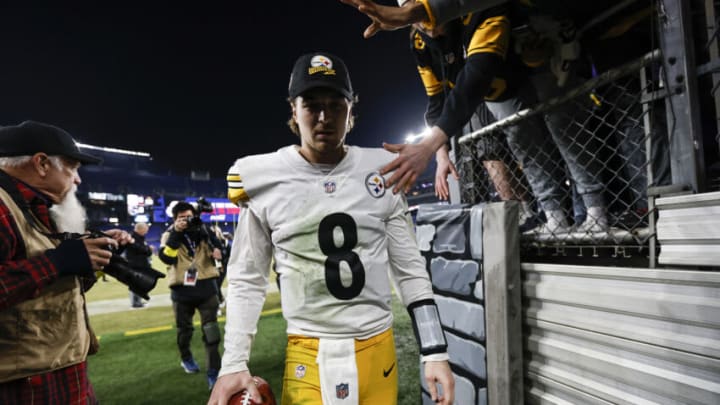 BALTIMORE, MARYLAND - JANUARY 01: Kenny Pickett #8 of the Pittsburgh Steelers heads to the locker room after defeating the Baltimore Ravens during an NFL football game between the Baltimore Ravens and the Pittsburgh Steelers at M&T Bank Stadium on January 01, 2023 in Baltimore, Maryland. (Photo by Michael Owens/Getty Images) /
Pittsburgh Steelers tight end Pat Freiermuth (88). Mandatory Credit: Scott Galvin-USA TODAY Sports /
#2: Pat Freiermuth makes a Pro Bowl
As previously established, Pittsburgh's offense has needed some time to get the ball rolling at a pace that is even remotely consistent, and a noteworthy victim of that has been tight end, Pat Freiermuth.
Freiermuth has cemented himself as one of the most promising assets to Pittsburgh's passing game, yet he has failed to keep many people's attention outside of Steeler Nation (something that offensive struggles can take a heaping amount of blame for). One tell-tale sign of this is him still waiting for his first Pro Bowl selection.
And just to prove to any doubters that Freiermuth does, in fact, have the potential to hit Pro Bowl status (and soon), we'll break down his 2022-23 stats alongside those of a fellow tight end who managed to get a Pro Bowl selection of his own this season: Minnesota's T.J. Hockenson.
When comparing their regular season performances, Freiermuth had the advantage in yards per catch (11.6 to 10.6). He also had more games averaging double-digit yards per catch (eight to six). Now do those stats show all that there is to know about these two and their impacts? No, but they do show Freiermuth's potential to be in the Pro Bowl conversation, and that's enough for me to expect his name to at least enter it this upcoming fall. And it's not all about the numbers, either.
When comparing the tight ends' quarterbacks, Hockenson had Jared Goff and Kirk Cousins throwing to him this season, while Freiermuth had Trubisky and Pickett. In my opinion, the gap in total QB experience there begs the question of how much it influenced the talents' stats.
Said question points to Freiermuth only getting better as Pickett gets more game time under his belt, and considering that it didn't take much for him to alter the path of this last run, I would say that we are on pace for 2023 to be the year Freiermuth finally gets the Pro Bowl recognition he deserves.