Steelers training camp: Day 1 and 2 tweets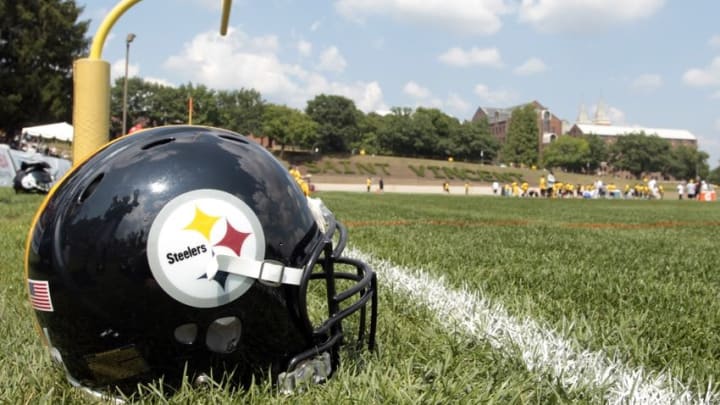 Jul 29, 2016; Latrobe, PA, USA; A Pittsburgh Steelers helmet sits on the field during training camp at Saint Vincent College. Mandatory Credit: Charles LeClaire-USA TODAY Sports /
The Steelers are all present and accounted for and are practicing in Latrobe and all is right with the world.
What always seems like the longest offseason ever is finally over and Steeler Nation has ascended upon Saint Vincent College once again. The Steelers checked into the dorms on Thursday and held their first practice on Friday.
From the player arrivals to the first practice and the conditioning test to the first practice and autographs if you can't be there we can bring it to you.
Prior to the start of camp Steelers guard Ramon Foster summed up the phases of camp the players go through in visual representation rather nicely.
https://twitter.com/RamonFoster/status/758676641501552640
https://twitter.com/RamonFoster/status/758676689555718144
That's quite the summary.
Then there's the back-to-school feeling seeing all the guys getting together again and it just feels right.
Some guys, like Antonio Brown, like to make a more conspicuous entrance than others. If you got it, you might as well flaunt it. No one works harder than Antonio Brown so if he wants to arrive each camp in a newer even more custom tricked-out Rolls Royce then that's what he'll do.
When the guys come down the steps for the first time there's just nothing like it. All the fines are lined up ready for a chance at some autographs and everyone there is ready to witness something special.
Ben Roethlisberger paid tribute to retired Steeler Heath Miller for the first practice Miller was absent for since 2005.
James Harrison is not human. It's super-hot out and he's wearing a sweat suit. For real.
There's nothing like getting a high five from a Steelers player. Even the coaches want one.
When practice starts it's all business for the players. Positions will be won and lost on these practice fields. Every minute counts towards preparing for the ultimate goal. They'll literally lose blood, sweat and possibly tears chasing a championship. Dramatic enough?
The fans show the love and the players certainly appreciate it. Markus Wheaton looks to make a serious impact this season on the Steelers offense but never takes the support of the fans for granted.
https://twitter.com/steelers/status/759145695941169152
Over the course of the next few weeks the Steelers will go through some hot days of practice and hard work before they'll pack it up and head back to the South Side. If you can, be sure to make your trek out to Latrobe and catch the action for yourself.
Next: Steelers fan training camp guide
If you can't be there Still Curtain will bring it to you. Here we go!