Steelers vs. Dolphins: How to get tickets to the sold out game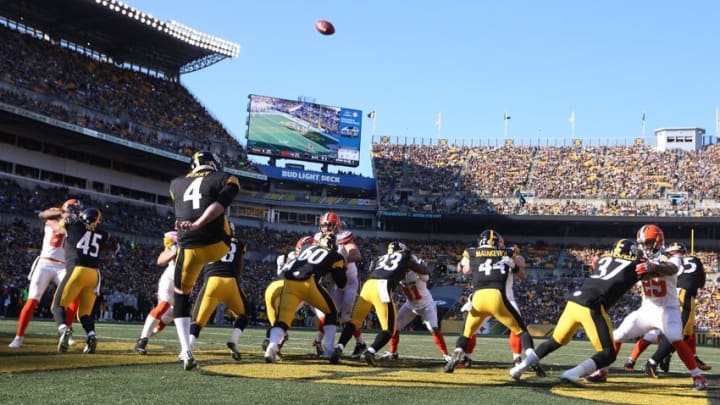 Jan 1, 2017; Pittsburgh, PA, USA; Pittsburgh Steelers punter Jordan Berry (4) punts the ball from his end zone against the Cleveland Browns during the second quarter at Heinz Field. Mandatory Credit: Charles LeClaire-USA TODAY Sports /
The Steelers will host the Dolphins for a Wild Card Game on Sunday and it will be the hottest ticket in town.
The team announced on Tuesday that the game was sold out already making the tickets even more coveted by members of Steeler Nation. What do you do if you still want a ticket to the game? Do you head down to the North Shore and press your luck finding a guy on the corner?
That's a good way to not get into the stadium, in case you haven't been burned before in the past. Unless you have a connection with a season ticket holder your best bet is to head to the Steelers Ticket Exchange to find your seats for the playoff action.
More from Still Curtain
It's likely the only playoff game Pittsburgh will host since their seeding would most likely send them to Kansas City in the next round if they advance. Unless the Patriots are knocked off they're headed to Foxboro after that.
One in five sports fans* have experienced ticket fraud. That's likely someone you know. Actually, it's me, I've experienced ticket fraud before. It was years ago when the team was in Tampa for a Monday night football game and a buddy and I decided to drive down on spur of the moment.
We found a "guy on the corner" and bought some tickets only to get up to the gate and get turned away. How embarrassing! Ben Roethlisberger and Co. were inside taking on Tampa Bay and I was stuck outside with bad tickets.
Thankfully the Steelers won that game so it wasn't a total loss while consoling myself at a nearby sports bar to watch the game.
This weekend the temperatures are going to be in the teens for game time, you don't want to be left in the cold for this game. You know your friends will totally leave you behind if you have a bunk ticket. You know that without even having to ask them. This is the playoffs; no friendship loyalties are safe.
The NFL Ticket Exchange by Ticketmaster is the only place where you can safely purchase tickets you know won't get your turned away at the gate. Check early and often, especially for future rounds if you're going to travel out of town to catch the Black & Gold in action.
Don't go posting pictures of your tickets on social media. People can capture images of your tickets and use them to sell more tickets. You could actually run the risk of being turned away yourself if that happens and someone else has already claimed your seat.
Next: Steelers vs. Dolphins: Wild Card Tomlin Tuesday
Don't miss out on the playoff action in Heinz Field this Sunday, Steeler Nation! Don't buy tickets from anywhere you don't trust.
*Methodology: From December 21 to 22 2016 an online survey was conducted among 1,000 randomly selected American adults who are Springboard America panelists. For comparison purposes, a probability sample of this size has a margin of error of +/- 3.1%, 19 times out of 20. Statistics referencing "sports fans" are based on the 634 Americans who said they consider themselves a fan of sports.
Here we go Steelers! Here we go!