Pittsburgh Steelers have pulled off the unthinkable and can now focus on the future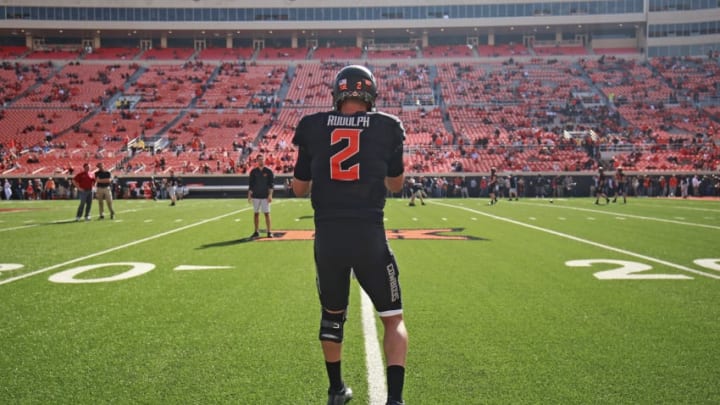 STILLWATER, OK - NOVEMBER 04: Quarterback Mason Rudolph /
The NFL Draft is always exciting, especially for a team that builds through it. But for the Pittsburgh Steelers, they've taken an unconventional approach to their offseason and it's making April 26 even more unknown.
Mason Rudolph is now the guy at No. 28, right? Or maybe Derrius Guice? But what about Le'Veon Bell and Josh Dobbs? Oh, so they're going to draft another inside linebacker?
No one knows. But for the first time in a long time, the Pittsburgh Steelers are making offseason moves and it's leaving everyone clueless.
Morgan Burnett is reportedly flying into the Steel City today to sign a deal with the Steelers. A team with little to no cap room has somehow filled their two biggest holes through free agency, not the draft.
Which is fine. Pittsburgh needed stars and Jon Bostic and Morgan Burnett are as good as they come this offseason. How they're coming up with the money to sign these two will reach the surface eventually, but for now, trust that they somehow pulled off even more contract reconstructions and maybe a cap casualty.
None of this helps the draft, though. It makes the Steelers better. A lot better. But it leaves the 28th pick wide open.
Still Curtain Podcast: FA signings leave the NFL Draft with plenty of options
The notation that the Steelers wouldn't be able to fill defensive holes and keep Le'Veon Bell is behind us. Somehow, this team pulled off the unthinkable and it means this offseason is a success, and it's time to move on to the future?
That'd mean Mason Rudolph is the answer. The Oklahoma State quarterback has certainly caught the eye of scouts with later first-round picks.
A huge arm under one of the most elite pro-style college systems in college football makes him a pleasing prospect. Behind Ben Roethlisberger for two or three seasons and Rudolph can certainly step into a starting lineup as one of the brightest young QB's in the league.
At No. 28, Rudolph is going to be available, most likely. Unless someone like the New Orleans Saints jumps the gun and picks him before Pittsburgh. More than likely, though, he's going to be sitting around when the Steelers are on the clock.
So, Pittsburgh has completed the offseason with much more success than they expected. A new safety, inside linebacker and Le'Veon Bell is still around. All that's left to do is grab the future quarterbacks and begin preparing for 2018.
Next: Kring's Steelers Mock Draft 1.0
No one saw it coming. But the Pittsburgh Steelers have taken their team further than anyone predicted. Meaning they can only get ready for the future at No. 28.