5 veterans the Steelers could trade away for draft capital in 2022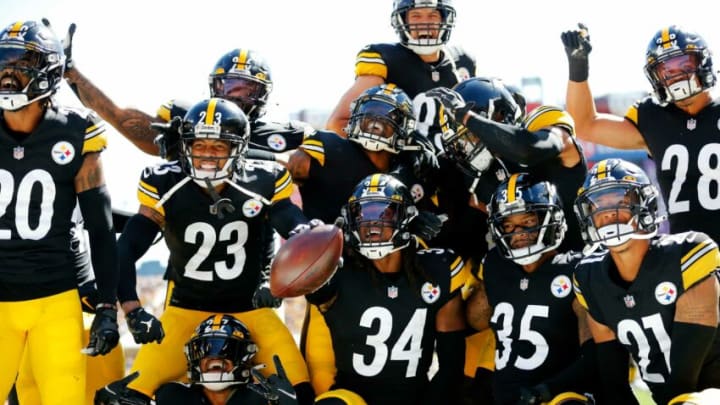 Pittsburgh Steelers strong safety Terrell Edmunds (34) celebrates with his teammates. /
The Pittsburgh Steelers are going nowhere fast. Here are five veterans they could trade away for draft capital next April. 
This is not the start to the 2021 season that Kevin Colbert and Mike Tomlin envisioned when they elected to allow Ben Roethlisberger to come back for one final run. The decisions to 'go all out' one more year caused a ripple effect that had the Steelers restructuring contracts and handing out voidable-year extensions left and right.
By doing this, Pittsburgh was able to scrape together a few extra bucks to add depth in free agency. They also traded away future draft capital to make sure their team could succeed this year by obtaining players like Joe Schobert and trading back into the draft to grab DL Isaiahh Loudermilk.
Now Pittsburgh is in a bad way when it comes to draft capital next year with nothing to show for it. Because this team is a massive longshot to even make the playoffs this year, it could be time to start thinking about trading away some veterans who are unlikely to re-sign with the team beyond 2021. By doing this, the Steelers can obtain some much-needed draft capital in a year where they will need to truly rebuild. Here are five players they could trade for draft capital:
WR James Washington
In 2019, James Washington led the Pittsburgh Steelers in receiving. He would have been much more valuable to potential suitors if he was traded back then. However, Washington is clearly unhappy in Pittsburgh and there's almost no chance he returns to the team in 2022.
Though the Steelers aren't going to get anywhere close to the second-round pick back that they spent on him if they were open to trading Washington, there could be a team out there who would take his rental services for the price of a late-round draft choice – maybe a conditional sixth or seventh-round pick.
This doesn't seem like a lot, but for a team already missing a fourth, fifth, and sixth-round pick in 2022, they could use all the help they could get for next year's NFL Draft.